Nearly half of Americans live in areas with heavily polluted air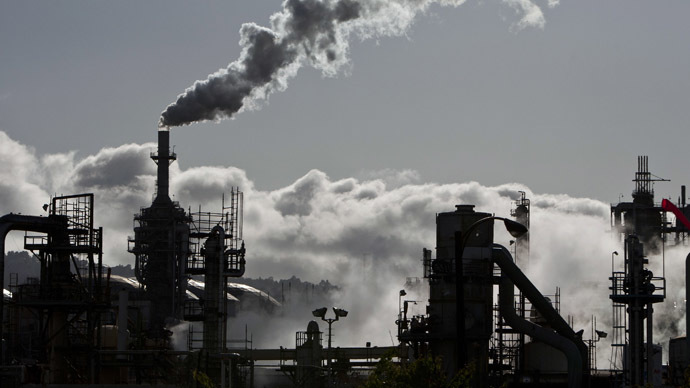 Up to 150 million people – almost half of all Americans – live in areas where air pollution levels are unhealthy to breathe, the American Lung Association has revealed in its newest report.
According to the health organization's 15th annual 'State of the Air' report, a total of 147.6 million people across the US live in counties with "unhealthful levels of either ozone or particle pollution." This figure is almost 16 million more than in the 2013 report, in which the organization analyzed pollution levels from 2009, 2010, and 2011.
State of the Air 2014 focused on the nation's air quality between 2010 and 2012.
California towns occupied the top five metropolitan areas with the highest air pollution, with Los Angeles being among the "leaders" in all three categories – by ozone (the most widespread air pollutant), year-round particle pollution, and short-term particle pollution.
Los Angeles remained the city with the worst ozone pollution problem, and had slightly more days of high ozone levels in 2010-2012.
These pollutants, the report stresses, remain a "pervasive health threat." Studies show that particle pollution (a mixture of tiny solids and liquids in the air) and dangerous levels of ozone lead to an increased risk of heart disease, lung cancer, and asthma attacks.
Though America's overall air quality has improved compared to previous years, levels of ozone (smog) are much worse, the American Lung Association said.
"Twenty-two of the 25 most ozone-polluted cities in the 2014 report – including Los Angeles, New York City, and Chicago – had more high ozone days on average when compared to the 2013 report," it was revealed in the report.
Houston, Washington-Baltimore, Las Vegas, Phoenix, and Philadelphia are also among those cities with the worst ozone problems.
The organization links the rise in ozone levels with a changing climate and warmer temperatures during those years.
"Weather played a factor," the report said. "The warmer summers in 2010 and 2012 contributed to higher ozone readings and more frequent ozone days. Sunlight and heat create conditions that increase the risk of high ozone levels."
There are, however, four cities in the US where the air was clean of ozone and short-term particle pollution. They were also on the list of the cleanest cities for year-round particle pollution. According to the report, the cleanest cities are Bangor (ME), Bismarck (ND), Cape Coral-Fort Myers (FL) and Salinas (CA).
You can share this story on social media: