Wildfire triggers mass evacuation near Los Angeles (PHOTOS, VIDEO)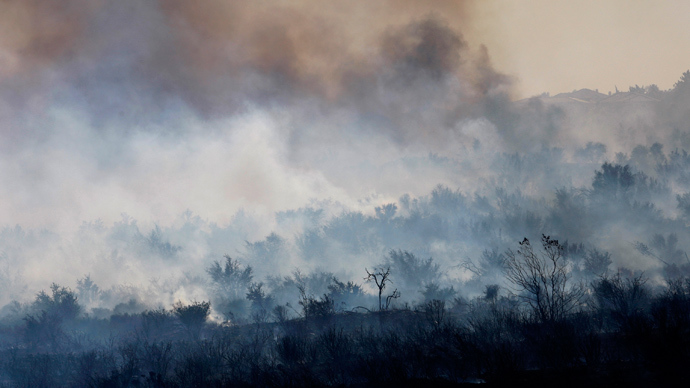 A rapidly spreading wildfire in Southern California forced the evacuation of more than 1,600 homes Wednesday, as powerful winds drove it closer and closer to a city just east of Los Angeles.
The fire initially began around 8 a.m. Wednesday morning in the Etiwanda Preserve of the San Bernardino National Forest. Although it started off covering only about 20 acres of forest, strong and unpredictable gusts of wind from the neighboring mountains quickly spread the fire through 200 acres in a span of two hours.
By the middle of the day, the fire had scorched through more than 1,000 acres of land, buoyed by winds up to 80 miles per hour. According to the Los Angeles Times, the fire had only been 10 percent contained by Thursday morning.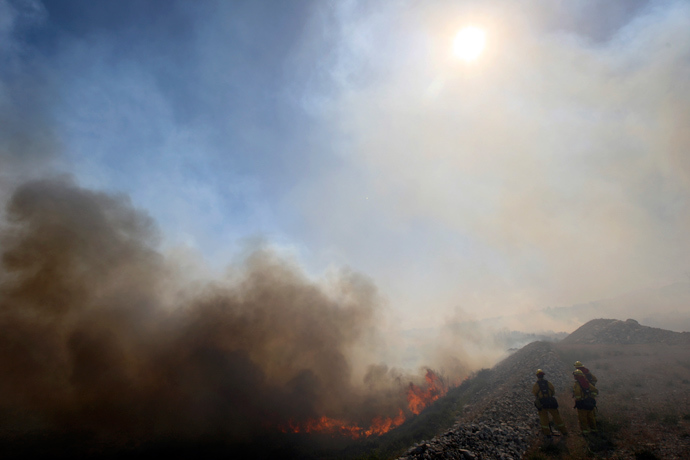 With smoke promptly making its way to the edges of Rancho Cucamonga – a city with a population of 165,000 people – the US Forest Service employed a mandatory evacuation, forcing residents from 1,650 homes due to the instability of the fire. Local schools were also evacuated.
"Any time they tell me it's time to go, I can get out of here. I don't want to be in anyone's way," said local resident Barbora Konecna to the LA Times in a separate report. "With the wind going the way it is, you just don't know."
According to KTTV Los Angeles, the mandatory evacuation had been lifted by 6 p.m. Wednesday, though a voluntary evacuation remains in place. Damage has been reported to one home in Rancho Cucamonga, with residents on alert in case changing wind patterns necessitate further action.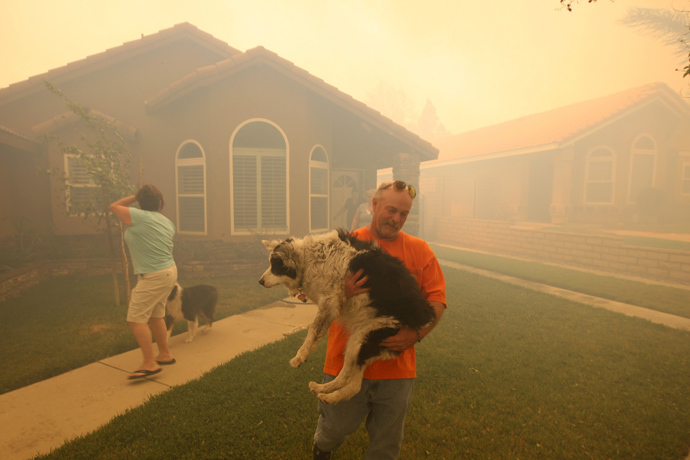 Speaking with CNN affiliate KCBS on Wednesday, Bob Poole of the US Forestry Service said the conditions were too risky to use aircraft to battle the flames.
"The big challenge on these fires is the wind and the unpredictability, and with winds like this we can't put up aircraft. It's just too dangerous," he said. "So we try and figure out where it's going to end up and put our resources there."
With hundreds of firefighters and dozens of trucks involved and hoping to make gains against the fire, the National Weather Service's Miguel Miller said there was mixed news coming in for Thursday's efforts.
"The bad news is, we're going to have some tough, hot, dry, windy conditions to fight that fire, and in case any other fire gets started, it's going to spread quickly," he said. "The good news is, conditions will improve this afternoon."