Military sexual assault reports skyrocket 50 percent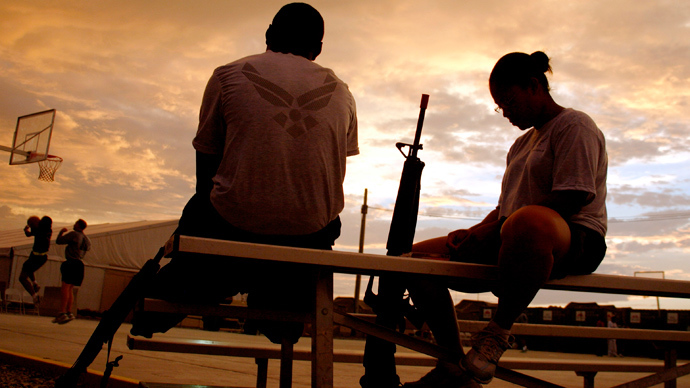 Members of the United States military are increasingly coming forward regarding sexual assault – so much so that the number of cases reported have shot up by 50 percent.
Following a recent push by the Pentagon to encourage victims to step forward and report abuses, a new survey – scheduled for release Thursday – is expected to show there were more than 5,000 cases of sexual assault during the 2013 fiscal year ending September 30. During the previous fiscal year, more than 3,300 cases were reported.
What's more, the Associated Press is reporting that the Pentagon was able to discipline in some way about 73 percent of those accused of assault, a seven percent increase over 2012.
Notably, though, the military is still frustrated with the number of men who are not reporting cases of assault – ranging from unsolicited sexual contact to rape and sodomy. About 6.2 percent of women reported being sexually assaulted last year, but only 1.2 percent of men did. Despite the gap in percentage, there were still more cases of men being assaulted (nearly 14,000) than women (a little more than 12,000).
Considering the number of men in the military dwarfs the number of women, officials are looking at new ways to encourage men to report abuse when they see or experience it.
"There is still a misperception that this is a women's issue and women's crime," Nate Galbreath, an adviser for the Pentagon's sexual assault prevention office, said to the AP. "It's disheartening that we have such a differential between the genders and how they are choosing to report."
Despite the documentation of a surge in reported abuse, some have criticized the Pentagon's upcoming report for its methodology. According to the New York Times, Sen. Kirsten Gillibrand (D-N.Y.) wrote a letter to the Defense Department last week raising concern over the possibility that the survey adjusted the military's definition of unwanted sexual contact, writing it "will make it impossible to determine whether the data accurately reflects the impact of the policies and procedures instituted by the Armed Forces."
For its part, the Pentagon said it is making progress.
"For us, the 50 percent increase in reporting is significant," Pentagon spokesman Rear Adm. John F. Kirby said to the Times. "Obviously you want to get to zero incidents, but the fact that more victims are coming forward tells us that their confidence in the system is growing. And that's a good thing."
In the past, many victims of sexual assault declined to come forward, especially against those higher in rank, out of fear. Others who did report a case said they were often ignored. As noted by the AP, an anonymous 2012 survey showed roughly 26,000 service members claimed being assaulted. Lawmakers such as Gillibrand, meanwhile, claim only one out of every 10 cases are actually reported.
A recent case involving a US Army general accused of sexually assaulting a female captain ended in March with the general being fined and spared any jail time – a sentence that surprised many who expected a harsher sentence. As RT reported then, the general was initially charged with forcible sodomy among other things, and pleaded guilty to adultery and mistreating his accuser.
According to Major Gen. Jeffrey Snow of the Pentagon's Sexual Assault Prevention and Response Office, Thursday's report did not suggest that the number of crimes in the military has increased, and it is believed the spike is due to increased confidence in the Pentagon's willingness to go after abusers.
"There is no indication that this increase in reporting constitutes an increase in crime," he said. "We assess that this unprecedented increase is consistent with a growing confidence in the response systems."
You can share this story on social media: