Republican senators introduce bill containing harsher sanctions against Russia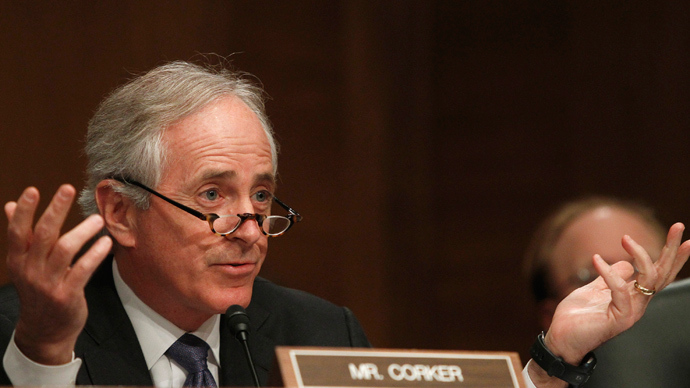 Republican members of the United States Senate took further steps on Wednesday towards increasing sanctions against Russia amidst an escalating international crisis surrounding neighboring Ukraine.
Just two days after US President Barack Obama introduced the White House's latest attempt to reprimand Moscow for its role in the Ukrainian ordeal, 19 senators introduced legislation on Wednesday described by Reuters as being broader and tougher than anything put in place yet by the administration.
According to Reuters, the sanctions would apply to major Russian banks and energy companies, and come with $100 in military aid for Kiev. Wall Street Journal reporter Kristine Peterson added Wednesday morning that the military aspect of the proposal, if approved, would require the White House to substantially increase US and NATO support for the armed forces of allied Poland, Estonia, Lithuania and Latvia, as well as accelerate implementation of missile defense in Europe.
On Monday this week, the White House imposed additional sanctions on Russia. Those sanctions targeted seven Russian government officials and 17 companies closely tied with Russia's Pres. Vladimir Putin.
"Since April 17, Russia has done nothing to meet its Geneva commitments and in fact has further escalated the crisis," White House press secretary Jay Carney said on Monday this week. "Russia's involvement in the recent violence in eastern Ukraine is indisputable."
"The goal is not to go after Mr. Putin personally; the goal is to change his calculus, to encourage him to walk the walk, not just talk the talk," Obama said.
"I think what is happening now shows us who really was mastering the process from the beginning," Pres. Putin said in response this week. "But in the beginning, the United States preferred to remain in the shadow."
The Kremlin fired back at first, and said Russia would not be hurt by the sanctions. Now just days later, conservative members of Congress are saying it's time for Uncle Sam to up the ante.
"What we've seen from the administration is a lot of rhetoric," Sen.Bob Corker(R-Tennessee) said Wednesday morning, according to the Journal.
"Until Putin feels the real pain of sanctions targeting entities like Gazprom, which the Kremlin uses to coerce Ukraine and other neighbors, as well as some significant financial institutions, I don't think diplomacy will change Russian behavior and de-escalate this crisis," he said in a statement.
Sen. Dan Coats (R-Indiana) added in his own remarks that "The lack of a forceful, effective response by the administration and Western leaders has given Putin little reason to expect that further aggression will be punished."
"We are introducing tough diplomatic, economic and financial sanctions, and I am hopeful that President Obama will support our effort," Coats said.
Washington has blamed Moscow for encouraging a recent uprising in eastern Ukraine and the nearby peninsula of Crimea that has displaced several local governments and imposed pro-Russian officials in their place. The recent Geneva treaty was signed with the goal of relaxing tensions in the region ahead of upcoming elections in Ukraine being held to replace the country's recently ousted president Viktor Yanukovych, both leaders in both the US and Russia have accused one another of failing to abide by those terms.