​Reform bill would require Voice of America to trumpet US policy objectives – report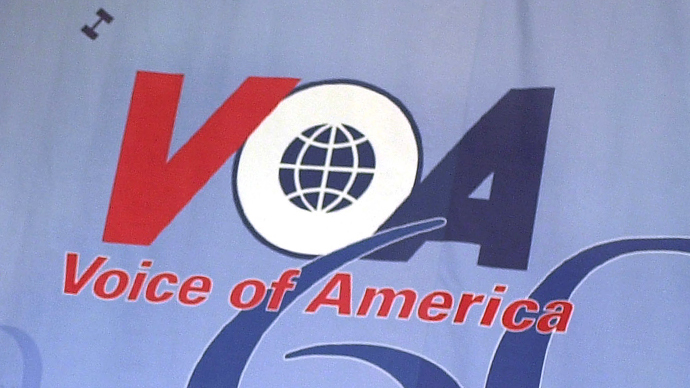 Members of the US House and Senate are working together to craft legislation that would reform US-government-funded broadcasting outlets like Voice of America. The bill would require the channels to "support" US "public diplomacy" and "policy objectives."
Reform legislation in the House would change the language of Voice of America's mission to demand adherence to US foreign policy directives, according to a report by Foreign Policy magazine, calling into question how much editorial independence Voice of America (VOA) will have left.
"It is time for broad reforms; now more than ever, U.S. international broadcasts must be effective," Rep. Ed Royce (R-Calif.), chairman of the House Foreign Affairs Committee, said in a statement.
The bill has been in the works among top Republicans and Democrats on the House Foreign Affairs and the Senate Foreign Relations Committees for a year, Foreign Policy wrote. The House bill, supported by Foreign Affairs Committee head Eliot Engel, will get a panel vote on Wednesday.
Not only does the bill aim to clarify VOA's mission – which has arguably leaned away from consistently backing the official line in Washington in recent years – but it also reorganizes the federal agency that oversees US-funded media outlets, the Broadcasting Board of Governors (BBG).
BBG will go from having part-time board members leading the organization – US Secretary of State John Kerry is one current board member – to a full-time agency official directing daily operations. The bill would also consolidate Radio Free Europe, Radio Free Asia, and the Middle East Broadcasting Network into one "non-federal organization," Foreign Policy reported. The legislation will also attempt to cut the number of federal contractors that work at the outlets.
"This legislation makes clear that the Voice of America mission is to support U.S. public diplomacy efforts," a summary of the new bill outlines. "The VOA charter states that VOA will provide a 'clear and effective presentation of the policies of the United States...Over time, VOA has abandoned this mission."
A spokesperson for BBG would not speak on the proposal. "The agency does not comment on pending legislation," Lynne Weil told Foreign Policy.
VOA, by far the most widespread of BBG's networks, produces news and cultural programming in 45 languages and reaches more than 164 million people around the world through television, radio, internet, and mobile platforms.
It began as an arm of the Office of War Information in 1942 as a way to match Nazi and Japanese propaganda. The State Department and the US Information Agency took it over in the 1950s, when it turned to counter Communist countries during the Cold War. VOA's global broadcasts of American jazz music were popular at this time. Major live VOA broadcasts include Martin Luther King Jr.'s "I Have a Dream" address in 1963 and the 1969 moon landing, which 450 million people heard on hundreds of stations worldwide.
In 1976, President Gerald Ford signed into law VOA's mission as an "accurate, objective, and comprehensive" news outlet as opposed to an explicit propagandistic venture.
Since then, "employees at the TV and radio broadcaster have insisted on viewing themselves as objective journalists as opposed to instruments" of the US government's policies abroad, wrote Foreign Policy. And since, on occasion, VOA has highlighted stories that did not reflect well on the United States, US officials have wondered why hundreds of millions of dollars is spent on a project that does not have a more pro-American outlook.
News of the reform bill comes days after the Sec. of State Kerry accused RT of being a state-sponsored "propaganda bullhorn" that is "deployed to promote President Putin's fantasy about what is playing out on the ground" amid unrest in Ukraine. Furthermore, he said RT spends almost all its time "propagandizing and distorting what is happening, or not happening, in Ukraine."
Russian Foreign Minister Sergey Lavrov denounced Kerry's latest comments about RT as "uncivilized" and "prosecutorial."
"[The West] was convinced for some time that it had a full monopoly on mass media," said Lavrov in a statement. "Russia Today has won a large audience in the US and Western Europe, not to mention in Latin America and the Arab world."
You can share this story on social media: