​Vermont poised to enact toughest US GMO-labeling law yet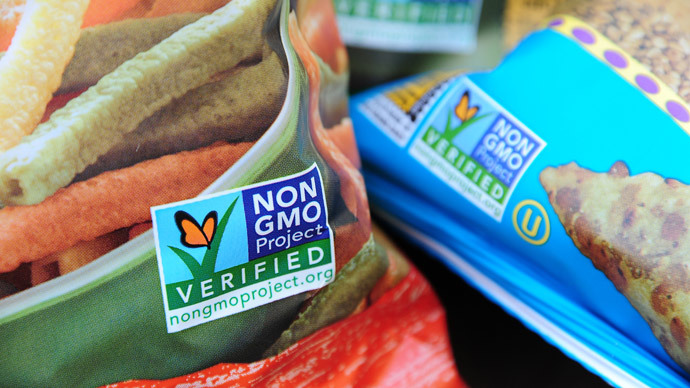 Vermont lawmakers have passed legislation that requires food made with genetically modified organisms, or GMOs, to be labeled as such. The law, the first of its kind in the US, must now get approval from Gov. Peter Shumlin, who has supported the bill.
The state House of Representatives approved the bill on Wednesday by a vote of 114-30. The state Senate passed the legislation last week by a vote of 28-2.
The bill would require any foods containing GMOs sold at retail outlets to be labeled as having been produced or partially produced with "genetic engineering." The law would go into effect on July 1, 2016.
Gov. Shumlin must now sign the bill to cap the process. He again expressed support for the measure on Wednesday.
"I am proud of Vermont for being the first state in the nation to ensure that Vermonters will know what is in their food. The Legislature has spoken loud and clear through its passage of this bill," Shumlin said. "I wholeheartedly agree with them and look forward to signing this bill into law."
Anticipating lawsuits from industry, legislators established a fund of up to $1.5 million to help the state pay for defense against any legal action. People can contribute voluntarily to the fund, and settlements won in other court cases can be added to the fund by the state attorney general, the Burlington Free Press reported.
The bill also makes it illegal to call any food that contains GMO ingredients "natural" or "all natural."
Maine and Connecticut are the only US states that have passed GMO labeling laws, though their proposals would only go into effect if and when surrounding states also pass similar laws. GMO labeling is required in 64 countries, including the European Union.
The Center for Food Safety says dozens of states are considering GMO labeling laws on some level, as there is no federal labeling standard. Polling suggests over 90 percent of Americans would prefer GMO ingredients in consumables to be labeled to some extent.
Powerful food industry and biotechnology players are currently banding together on manyfronts to protect their investment in GMO technology despite national and international pushback. Their main effort in the US is seen in federal legislation that would block states from passing mandatory GMO labeling measures like Vermont's despite the "right to know" movement's rising popularity.
The claim that genetically-engineered food poses no risk to human and environmental health is far from settled, despite the industry's assertions.
In October, 93 international scientists said there was a lack of empirical and scientific evidence to support what they called false claims made by the biotech industry about a so-called "consensus" on GMO safety. They said more independent research is needed, as existing studies that say GMOs are safe are overwhelmingly funded and supported by biotech companies.
The US Department of Agriculture recently voiced concerns over the potentially devastating environmental effects of GMOs.
A recent study found that global classification of GMO foods is fundamentally flawed and "has failed miserably" at protecting public health.
GMOs have been in the food supply since the 1990s, and are included in roughly 70 to 80 percent of products available to American consumers, according to food manufacturers. The most widely-used GMO crops in the US are corn, soybeans, and canola.
You can share this story on social media: