​Monsanto and co. pouring money into defeating county measure to ban GMOs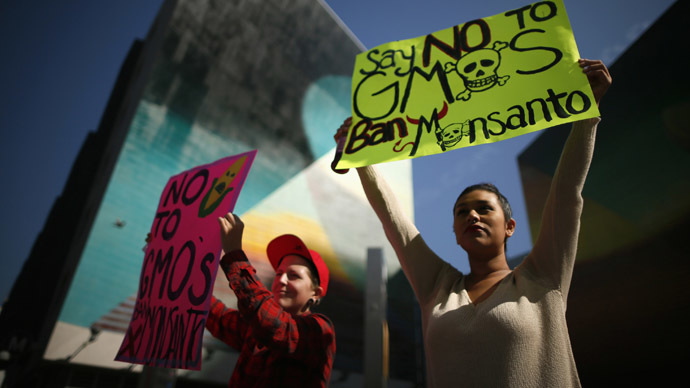 Monsanto and five other top agrochemical companies have donated a combined $455,000 to defeat an Oregon county ballot initiative that would restrict the growth of genetically-modified crops in area farms.
The internationally-powerful "Big Six" chemical companies are flooding the Measure 15-119 ballot campaign in Jackson County, Oregon with lucrative donations that have helped opponents of the measure amass an eight-to-one spending advantage, according to state figures.
Monsanto ($183,294), DuPont Pioneer ($129,647), Syngenta ($75,000), Bayer ($22,353), BASF ($22,353), and Dow AgroSciences ($22,353) have donated a combined $455,000 to Good Neighbor Farmers, the political action committee fighting Measure 15-119, which county voters will consider on the May 20 ballot.
"This is a staggering amount of money for a local ordinance," said Center for Food Safety senior attorney George Kimbrell. "For every vote they might get, Monsanto and its pals could afford to take each voter out for a fancy steak dinner."
Overall, Good Neighbor Farmers has $556,000 cash on hand, according to the Oregon Secretary of State.
The Center for Food Safety reported that, all in all, opponents of the measure have a total of $799,000.
Meanwhile, two political action committees supporting the measure, GMO Free Jackson County and Our Family Farms Coalition, have a combined $102,368.
Measure 15-119 "would ban any person from propagating, cultivating, raising or growing 'genetically-engineered'(defined) plants in Jackson County."
Kimbrell's group says that even before the latest contribution avalanche from the "Big Six," about 95 percent of donations in the campaign had come from outside Jackson County.
"It goes to prove just how much money is coming from outside of our county," Elise Higley, director of Our Family Farms Coalition, told The Oregonian. "The general reaction is that people are really angry that outsiders are pouring this much money into a county measure."
Jackson County, in southwest Oregon, is home to 208,545 people, according to the US Census Bureau's 2013 estimate.
The Oregon Legislature passed legislation last summer making the state the "regulator of agricultural seeds," according to The Oregonian, preempting local ordinances that attempt to ban GMO seeds. Yet since Measure 15-119 had already qualified for the Jackson County ballot, it is exempt from the Legislature's edict.
The vast majority of conventional processed foods in the US are made with genetically-modified organisms (GMOs). Around 93 percent of all soybean crops planted in the US last year involved genetically-modified, herbicide-tolerant (HT) variants, the US Department of Agriculture has acknowledged. HT corn and HT cotton constituted about 85 and 82 percent of total acreage, respectively.
GMO crops are now grown in 28 countries, or on 12 percent of the world's arable land, with the acreage doubling every five years. However, in the European Union, only two GMO varieties (compared to 96 in the USA) have so far been licensed for commercial harvesting. Russia, for instance, recently barred the import of GMO products.
Powerful food industry and biotechnology players are currently banding together on other fronts to protect their investment in GMO technology despite national and international pushback. Their main effort in the US is seen in potential federal legislation that would block states from passing mandatory GMO labeling measures despite the "right to know" movement's rising popularity.
The Center for Food Safety says dozens of states are considering GMO labeling laws on some level, as there is no federal labeling standard. Polling suggests over 90 percent of Americans would prefer GMO ingredients in consumables to be labeled to some extent.
The claim that genetically-engineered food poses no risk to human and environmental health is far from settled, despite the industry's assertions.
The US Department of Agriculture recently voiced concerns over the potentially devastating environmental effects of GMOs.
A recent study found that global classification of GMO foods is fundamentally flawed and "has failed miserably" at protecting public health.
You can share this story on social media: