Texas prisons are deadly hot
Texas prisons are becoming so hot that people are dying because of it – a situation that violates constitutional and human rights, a new report states.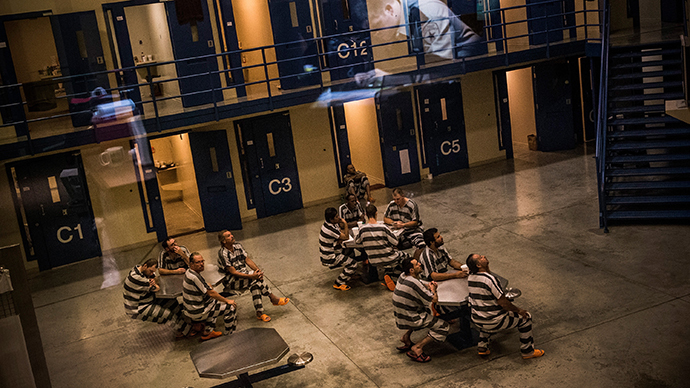 According to the University of Texas Law School's Human Rights Clinic, at least 14 inmates in the state's prisons have died from heat-related causes since 2007, but the problem is one that stretches back more than 15 years. Nineteen people have died since 1998, some of which were found in prison cells where the temperature ranged from 115 degrees to 149 degrees Fahrenheit.
In the report – a draft of which was obtained by the Houston Chronicle ahead of its publication – the authors state that further inaction by the Texas Department of Criminal Justice (TDCJ) would constitute a violation of American and international law protecting against cruel and unusual punishment.
"Continuing to disregard the plight of TDCJ inmates subject to extreme heat is not an option," the report reads, adding that prisons "would be in violation of international human rights standards and the requirements of the Eighth Amendment if it were to do so."
As a result, the Human Rights Clinic calls on the TDCJ to install air conditioners in the state's 109 prisons and ensure cell temperatures remain between 65 and 85 degrees.
"Because the TDCJ exercises complete control over prisoners in its facilities, it also bears the responsibility for guaranteeing the lives and health of all inmates," clinic director Ariel Dulitzky said in a press release.
As noted by the Huffington Post and confirmed by Dulitzky, the department is facing multiple lawsuits related to the conditions of its prisons, including one wrongful death suit claiming an inmate died of organ failure caused by excessive heat.
"More lawsuits are pending, not only for wrongful death, but for the ongoing risks that these extreme temperatures pose to inmates," Dulitzky added in the release.
In the face of such criticism, TCDJ executive director Brad Livingston defended the department's current rules, though he would not comment in the clinic's report due to continuing litigation.
"We have significant protocols in place governing the movement of offenders early in the day for work assignments, we supply ice water and have fans and other equipment to increase air movement," he said. "We believe the protocols are appropriate."
The Human Rights Clinic, however, disagreed. It noted that the TCDJ has moved to install air conditioning in its warden offices as well as its armories, and stated that current policies governing prison cells themselves are "ineffective in preventing heat-related injuries in very hot and humid conditions, such as those present in TDCJ facilities."
Texas isn't the only state that has seen heat-induced fatalities, though. As RT reported in March, a mentally ill New York man was found dead in a cell where the temperature surpassed 100 degrees. Despite taking medication that made him susceptible to heat and being located in the prison unit responsible for the mentally ill, the man was dead for hours before officials checked on him.
You can share this story on social media: