Texas executes inmate with drugs from secret source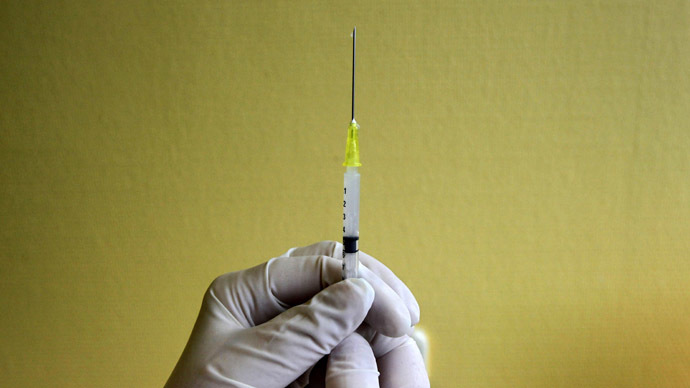 Texas executed its fifth inmate this year on Thursday, one day after federal courts rejected an attempt to force the state to disclose where it purchased the drugs used in its lethal injection procedure.
Convicted serial killer Tommy Lynn Sells, 49, was sentenced in 1999 for taking the life of 13-year-old Kaylene Harris. He had stabbed the girl repeatedly, attempted to murder her 10-year-old friend and, according to ABC News, also took responsibility for dozens of other murders across the United States.
Sells was pronounced dead at 6:27 p.m. Thursday evening in Huntsville, TX after officials administered a lethal dose of the sedative pentobarbital. According to the Associated Press, the correctional department had recently replenished its supply of pentobarbital, which was also the drug at the center of an appeal unsuccessfully waged by Sells' attorneys.
The inmate's lawyers had argued in court that the state should reveal the source of the drug, effectively winning a stay of execution from a federal judge at first. Reuters reported that that ruling was quickly overturned by a federal appeals panel, however, who said the effects of the drug were known and that the source could stay undisclosed. The state also claimed it had to keep the compounding pharmacy secret due to threats of violence that had been levied against the previous supplier.
Compounding pharmacies have come under scrutiny recently since they are not regulated by the United States Food and Drug Administration as strictly as other pharmacies are. Advocates for prisoner rights claim that without oversight, drugs developed at such facilities may not be up to the standards required and could cause unnecessary and extreme pain to an inmate as he or she is put to death.
"It is our belief that how we choose to execute prisoners reflects on us as a society," Sells' attorneys said to ABC News in a statement. "Without transparency about lethal injections, particularly the source and purity of drugs to be used, it is impossible to ensure that executions are humane and constitutional."
"It is our hope that the US Supreme Court and the Texas courts will ultimately agree that we must have transparency about the execution process in order to ensure that prisoners are able to protect their Eighth Amendment rights," they said.
Similar lawsuits have been filed in other states, most recently in Oklahoma, which has expanded the list of drug combinations acceptable for lethal injections. As RT reported earlier this week, a state judge ruled that Oklahoma could not keep its source of execution drugs secret, though state officials plan to appeal that decision as well.
According to the AP, Sells did not seem to visibly struggle for his life during the procedure. He reportedly took a few breaths, closed his eyes, began snoring and was pronounced dead a minute later.
The execution was witnessed by Terry Harris, the father of the slain teenager, who said the injection administered to Sells was "way more gentle than what he gave out."
Later, Harris told reporters that, "basically, the dude just took a nap."
As noted by Reuters, court documents state that Sells originally targeted Kaylene Harris for revenge against her father due to an unpaid debt related to drugs. He found her in her room on New Year's Eve in 1999, stabbed her 16 times and slit her throat. Sells also attempted to murder Harris' friend, Krystal Surles, who was sleeping over at the time in the bunk bed above her. He managed to slash her throat, but she survived and helped authorities identify the man.
You can share this story on social media: