'Maybe talk to his parents?' UK police arrest 12yo boy over racist threats to football player Wilfried Zaha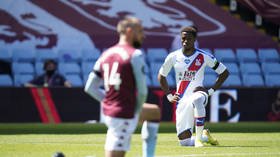 West Midlands Police raised some eyebrows on social media after proudly announcing they had arrested a 12-year-old boy just hours after he sent racist threats and images of the Ku Klux Klan to footballer Wilfried Zaha.
Prior to a Sunday match between Aston Villa and Crystal Palace, Zaha tweeted out the hateful messages he received overnight.
"Woke up to this today," Zaha wrote. Screenshots of the messages included a threat to come to the athlete's house "dressed as a ghost" if he scored in his upcoming match. Zaha also added a screenshot of the account that had sent the messages his way.
The extreme nature of the messages kicked off a campaign of solidarity with Zaha, and calls for immediate arrest and prosecution of the offender.
"This is abhorrent, unacceptable and criminal. There can be no room for racism of any kind in football or a civil society," Claudia Webbe, the Labour MP for Leicester East, tweeted.
Zaha also received support from the Premier League, while the manager of the Crystal Palace, Roy Hodgson, praised him for making the messages public.
"I think it is right that Wilf made people aware of it; I don't think it is something he should keep quiet about," he said. "There is literally no excuse; there is no excuse at all."
Authorities jumped on the case in full force and, within hours, an arrest was made.
"We were alerted to a series of racist messages sent to a footballer today and after looking into them and conducting checks, we have arrested a boy," West Midlands Police announced.
The 12-year-old from Solihull has been taken to custody
The fact that police resources went into swiftly arresting a 12-year-old has, however, led some to question the priorities of West Midlands Police.
"Maybe talk to his parents?" suggested Huffington Post contributor Yashar Ali. "Arresting a 12-year-old?"
"Imagine boasting about arresting a 12 year old," Breitbart News investigative journalist Allum Bokhari tweeted in reaction to the arrest announcement.
While many echoed similar sentiments, questioning what effect digital messages from a teenager to a grown man could actually have, some have still argued that the incident could at least teach the boy a lesson that his family and society appear to have failed to pass on to him.
If you like this story, share it with a friend!
You can share this story on social media: