UK PM Johnson sends unsigned letter to EU asking for Brexit delay after losing parliament vote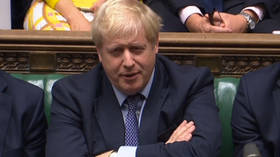 British Prime Minister Boris Johnson stands by his vow to leave the European Union by October 31, even though he sent an unsigned letter to EU officials seeking a delay, after Parliament voted to withhold support for his deal.
"I will not negotiate a delay with the EU, and neither does the law compel me to do so," Johnson told Parliament after the passage of the Letwin amendment, an addition to Johnson's proposed deal that would withhold support for the plan until legislation required to pass the bill is passed by Parliament as well.
Also on rt.com
Blow to Boris: UK MPs vote to delay decision on BoJo's Brexit deal, insist he now must ask for extension from EU
In effect, the passage of the amendment forced Johnson to ask Brussels for a three-month delay to Brexit by the end of Saturday. The House of Commons stated that Johnson is mandated by law to seek an extension, while opposition leaders threatened the prime minister with court should he ignore it.
Johnson's options were limited, so he technically fulfilled the obligations, sending a total of three document: an unsigned draft letter asking for a delay, as required by law; a cover letter explaining he was forced to do so; and a signed letter emphasizing that any extension would be a "mistake."
Johnson, told lawmakers the same earlier on Saturday, that "further delay will be bad for this country, bad for the European Union, and bad for democracy," adding "it is quite possible that our friends in the European Union will reject parliament's request for further delay (or not take a decision quickly).
Instead, he said his government will introduce fresh Brexit legislation when the Commons meets again next week.
Also on rt.com
'Britain now wants to remain': Anti-Brexit campaigners' POWERFUL VIDEO set in English countryside goes viral
The Letwin amendment, as described by its author, Tory MP Sir Oliver Letwin, was intended as an "insurance policy" to hold up Johnson's deal until the legislation required to enact it is passed. Johnson said that any vote on his deal would not be "meaningful" if the bill passed, as parliament would still withhold its approval.
The EU could potentially ignore the request or grant the UK a shorter extension than the three months mandated by Benn, which would allow Johnson to keep pressure on the opposition and prevent them from debating and changing the content of his deal.
Like this story? Share it with a friend!
You can share this story on social media: