'Insult to British people': Ex-UK PM Cameron's claim that Britain needed 'more' austerity blasted by Galloway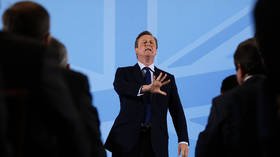 Former Tory PM David Cameron's claim that his government should have inflicted a harder and faster form of austerity on British people is an "insult," according to George Galloway, who insists harsh policies resulted in Brexit.
Former Labour MP Galloway was responding to Cameron who has released his memoirs in his new book, For the Record, in which he contends that it would have "been better if we did a little bit more [cuts] a bit earlier."
Also on rt.com
Oh deer: Brexit losing PM Cameron 'shoots stags and names them after Boris Johnson'
Galloway hit out at the former Etonian who lost the 2016 EU referendum, having failed to convince people that remaining in the bloc was the best option for Britain.
The reason that he lost, was not just because of the intense dislike of the European Union amongst millions of British people, but… because of the rejection of austerity, neoliberal economics.
The Scottish firebrand says Cameron "more than anyone else" came to represent that failed "status quo" politics. He insists the feelings expressed by the British people, in terms of how they saw society going, was demonstrated in their "verdict on the European Union in the Brexit referendum."
Galloway claimed that it was an "insult to the British people" to see Cameron back on the public stage as he publicized his book during an ITV interview on Monday. He joked that the Tory Party probably wishes he had stayed in his "very expensive garden shed or perhaps tended to his herd of pigs."
Cameron and his chancellor, George Osborne, embarked on a brutal program of cuts to public services between 2010 and 2016 after the 2008/09 global economic crash. The former PM has defended the severity of those cuts, insisting "the strategy did work."
Also on rt.com
The Guardian apologizes for claim ex-PM Cameron experienced 'privileged pain' over death of son
Think your friends would be interested? Share this story!
Subscribe to RT newsletter to get stories the mainstream media won't tell you.
You can share this story on social media: