'Farage building movement off power of social networks': Brexit Party winning the online war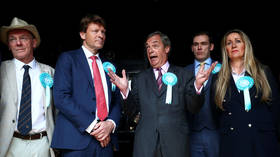 Nigel Farage's Brexit Party are crushing the competition in the social media battle being fought online, with their Facebook posts generating more shares than every other UK political party combined, according to new data.
89up, a London-based online content and social media consultancy have analysed a database of 1.5 million Facebook pages, since the beginning of the EU election cycle, which started a month ago.
They found that the Brexit Party generated 125,035 shares, dwarfing the numbers of their rivals. The Tories were the closest with 26,400, with Labour, the Liberal Democrats, UKIP and the Green Party all trailing with less than 6,000 shares. The new pro-second referendum party Change UK had a dismal 56 shares.
The new Eurosceptic party led by Farage only formed in January, but has since seen its popularity grow massively.
It's Twitter account was created in February and now has over 130,000 followers, benefitting from Farage's 1.3 million. A pinned post of its election broadcast has 544,000 views, with over 3,500 retweets and nearly 8,000 likes.
Also on rt.com
'More unsubstantiated crap': Farage roasted for making false claims about ethnicity of English town
Mike Harris, founder of 89up claims the extraordinary level of online engagement for the Brexit Party is down to the populist agenda being put forward by Farage.
What Farage has done is building a movement off the power of these social networks and their algorithms. Polarised content does brilliantly, hence Farage has significantly more reach than any of the main political figures of the UK.
The British public go to the polls on May 23 to vote in the EU Parliament elections with the majority of opinion polls showing the Brexit Party on course to beat the established mainstream parties, largely at the expense of UKIP.
Think your friends would be interested? Share this story!