Tory-Labour Brexit talks on the edge? Ex-cabinet members ramp up pressure on May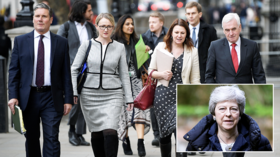 Cross-party Brexit talks being conducted by the Tories and Labour may be on the verge of collapse, as a number of influential former cabinet ministers increase pressure on PM Theresa May to reject a customs union.
A group of 14, mainly made up of Brexiteer ex-ministers and senior Tories, gave May much to think about before she held her Downing Street meeting with cabinet members on Tuesday morning.
In a letter to the embattled UK PM, senior Conservatives including Boris Johnson, David Davis and Gavin Williamson said any agreement with Labour over an EU customs union would be "both bad policy and bad politics."
13 ex-Cabinet & Sir Graham Brady letter to the PM: "A Customs Union Brexit deal with Labour is both bad policy and bad politics". Letter in full here. pic.twitter.com/fHaKxJruLp

— Greg Hands (@GregHands) May 14, 2019
They also ostensibly warned May that even if she were to agree to such a policy, which would leave the UK with substantially "reduced foreign policy influence," it would be torn up once she resigned as PM.
No leader can bind his or her successor, so the deal would likely be at best temporary, at worst illusory.
There's been growing anxiety among Tory MPs that Brexit discussions with Labour could damage the party at the voting booths, with the EU elections fast approaching.
Former defense secretary Gavin Williamson, who was sacked over the Huawei affair, slammed May over the weekend, describing talks with Labour as "politically naive" and "doomed to fail."
Also on rt.com
'Negotiating with the enemy': Sacked Def Sec Williamson blasts May's Brexit talks with Labour
Communities Secretary James Brokenshire claimed that it looks "very, very difficult to identify a deal with Labour" that could win the approval of parliament.
The disarray surrounding the government's Brexit negotiations is having a severe impact on polling numbers. The most recent survey conducted by Kantar put Labour on 34 percent, ahead of the Tories on 25 percent, Lib Dems on 15 percent, and the Brexit Party on 10 percent.
Think your friends would be interested? Share this story!
Subscribe to RT newsletter to get stories the mainstream media won't tell you.
You can share this story on social media: