'Negotiating with the enemy': Sacked Def Sec Williamson blasts May's Brexit talks with Labour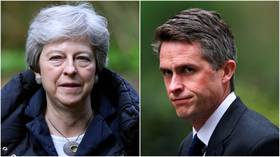 Former Tory Defence Secretary Gavin Williamson took a shot at Theresa May's Brexit deal negotiations with Jeremy Corbyn's Labour, warning that any agreement reached between the parties would only "end in tears."
Writing in the Mail on Sunday, the recently-sacked Williamson blasted May's bid to reach a cross-party agreement on withdrawing from the EU as a "grave mistake" and "destined to fail." He added that the main aim of Corbyn's Labour was to "divide" and "disrupt" the ruling Tory government and bring about a general election.
Also on rt.com
Minister of Offence: 7 most ill-judged & preposterous Gavin Williamson moments
"The Labour Party does not exist to help the Conservative Party," Williamson warned. "Their priority is to derail the Government. When push comes to shove, the Labour Party will do all they can to cause the Government to fail."
Williamson said that even if this "negotiating with the enemy" resulted in a Tory-Labour Brexit consensus, May would still struggle to get enough support in Parliament. "Even if it passes the first few votes, it will fail later," he added.
In response, a Downing Street source told the BBC that Williamson had previously been "supportive" of the cross-party talks while he was a cabinet member, though he had not been "involved" in the talks himself.
Also on rt.com
Farage's Brexit Party gearing up for landslide victory in EU election as Tories sink – poll
May's extension of the Brexit olive branch to the opposition started after she repeatedly failed to secure enough votes in Parliament for her withdrawal deal. The impasse resulted in the UK missing its scheduled Brexit date of March 29 and the EU extending the UK's membership in the bloc until October 31.
A former May loyalist, Williamson's relationship with the prime minister soured in May, after he was unceremoniously sacked for being the leak of National Security Council discussions on Chinese firm Huawei's role in the development of the UK's 5G network. He has vehemently denied the charge, claiming he was "tried by kangaroo court, then sacked."
Think your friends would be interested? Share this story!
You can share this story on social media: