'Not the case': Ex-Defence Secretary Williamson denies he was behind Huawei leak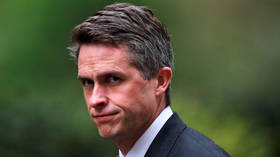 Fired by British PM Theresa May, who claimed he had a role in a leak of information from the National Security Council meeting on Huawei, the UK's ex-Defence Secretary Gavin Williamson continues to maintain his innocence.
"I strenuously deny that I was in any way involved in this leak," Williamson wrote in a letter to May that he published on his Twitter account. "I emphatically believe this was not the case," he said. Earlier on Wednesday, May decided to sack him as she lost confidence in his "ability to serve" after receiving "compelling evidence" of his responsibility for the disclosure.
A week ago the Daily Telegraph published the leaked data from the Security Council meeting, during which the ministers agreed to grant the Chinese telecommunications giant Huawei limited access to the development of the British 5G network. The incident prompted Downing Street to launch an inquiry into the leak, which led to Williamson's dismissal.
READ MORE: UK's May sacks defence minister Williamson over Huawei leak
The former defense secretary took a jab at the investigation by saying that "a thorough and formal inquiry would have vindicated [his] position." He also explained his decision not to resign willingly by saying that it would mean that he is admitting that he himself or someone from his department's staff was responsible for the leak.
Think your friends would be interested? Share this story!
You can share this story on social media: