Ben Shapiro gets brutal lesson from BBC's Andrew Neil that 'facts don't care about feelings' (VIDEO)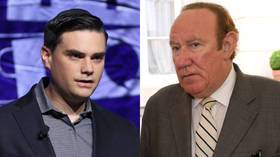 Right-wing gadfly and 'destroyer-of-leftists' Ben Shapiro got a taste of his own medicine when he squared off with the BBC's Andrew Neil, leaving the ace-debater cursing and calling off the interview.
Unfortunately for Mr. Shapiro, public debates are not often won based on celebrity status. This was particularly the case when being interviewed by Andrew Neil, whose signature 'devil's advocate' style proved a bit too adversarial for the normally sharp-witted Shapiro on Friday.
"If you want to critique me, I don't care, I don't give a damn what you think of me since I've never heard of you," Shapiro frothed, adding that he was not inclined to carry on the interview because of Neil's "bad motives."
Although Shapiro literally wrote the book on how to "debate and destroy leftists," he seemed to have a lot more trouble handling a seasoned conservative.
If Shapiro had done his homework, he might have realized that Neil is known for conducting precisely this kind of interview, and that the sharp questions don't even necessarily indicate disagreement in the British context. He nonetheless interpreted the grilling as sensationalist hostility, particularly when reminded of one of his own tweets from 2010 where he claimed that Palestinians like to "live in sewage" and "blow things up."
At this point, Shapiro decided that the only possible explanation was that the deeply conservative and hawkish Neil was actually some kind of militant leftist.
If that wasn't embarrassing enough, Shapiro then attempted to try to use his celebrity status in order to trounce his opponent, at which point the interview descended into an argument more appropriate for a high school lunchroom:
Going through and finding lone things that sound bad out of context and then hitting people with them is a way for you to make a quick buck on BBC off the fact that I'm popular and no one has ever heard of you.
Neil in a rather dour tone responded that there are "not many bucks to be made on the BBC," particularly considering that its a public utility. Shapiro, evidently flustered, then entered into a rather dramatic monologue before cutting the interview short.
Neil wryly responded thanking his guest for showing that "anger isn't a part of American political discourse."
Later in the day, Shapiro did realize his mistake and offered an apology of sorts… at least for mischaracterizing Neil's position on abortion.
Despite the conciliatory tone, the resulting mockery and brutal take-downs across Twitter will undoubtedly give even Shapiro a run for his money.
Shapiro reacted to the ribbing by admitting defeat, after a fashion, by adding the interview to the list of "dumb stuff" he has done and agreeing that "it's Neil 1, Shapiro 0."
Like this story? Share it with a friend!