Amazon's kid-friendly Echo Dot is 'blatant violation' of child privacy laws, investigation finds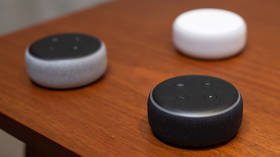 An investigation into Amazon's 'Echo' device for kids has revealed alarming details about its operations, including that the tech company keeps children's sensitive data even after parents try to delete it.
Research into Amazon's Echo Dot Kids Edition, carried out by the Campaign for a Commercial-Free Childhood (CCFC) and the Institute for Public Representation (IPR) at Georgetown Law, found "blatant violations" of children's privacy laws and the illegal collection of their data.
Also on rt.com
'Alexa, who's eavesdropping on me?' 1000s of humans reportedly audit 'snippets' from Amazon devices
The CCFC, who published their findings on Thursday, are now calling on the FTC to investigate and sanction Amazon "because parents, not Jeff Bezos, should be in charge of children's data."
The Echo Dot Kids is the child version of Amazon's 'home assistant' speaker device, which records and stores information from its users. The technology uses machine learning to help train the system's AI and understand its owner better through their requests.
READ MORE: Alexa, what's my neighbor doing? 'Human error' allows user to eavesdrop on stranger's life
The group investigating the family-friendly version of the device released video footage demonstrating their attempts to delete sensitive data.
"Amazon markets Echo Dot Kids as a device to educate and entertain kids, but the real purpose is to amass a treasure trove of sensitive data that it refuses to relinquish even when directed to by parents," said Josh Golin, CCFC's Executive Director.
Golin went on to claim that Amazon are in clear violation of the Children's Online Privacy Protection Act (COPPA) and called on the FTC to hold the company accountable for "blatantly violating children's privacy law and putting kids at risk."
READ MORE: Alexa, is that you? Amazon exposes user data in mystery breach, issues creepy non-explanation
Amazon spokeswoman Kinley Pearsall said the Echo Dot Kids Edition is "compliant with the Children's Online Privacy Protection Act," but failed to address any of the specific issues raised in the complaint, reports the Washington Post.
Amazon's 'Alexa' has been the center of a series of privacy breaches since it came to the market in late 2014, including accusations of eavesdropping on thousands of users and leaking private information to strangers.
Also on rt.com
Amazon admits Alexa could be hacked and turned into spy device
Like this story? Share it with a friend!
You can share this story on social media: