'Hacker? No, no, no!' Vaughan Smith says Assange's activity was nothing but journalism (VIDEO)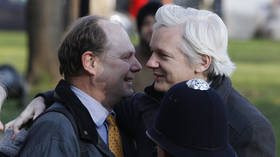 A close friend of Julian Assange claims the WikiLeaks founder's arrest has been framed as an issue of hacking in an attempt to suppress public support. He argues Assange is no hacker, but rather a journalist protecting his source.
UK journalist Vaughan Smith gave Assange refuge in 2010, first at the Frontline Club and then at his country house in Norfolk, England. He told George Galloway on RT's Sputnik program that perceptions of a 'hacker' depend on what has been alleged to have been hacked.
...hacking is fine if one approves of it so they've labelled him a hacker because there's a perception that this is not going to receive public support.
Vaughan, who provided the Australian journalist sanctuary after he was released on bail following accusations of sexual assault and rape in Sweden, insists the accusations that Assange hacked into a US Defense Department computer are false.
He argues that Assange's source, Chelsea Manning, already knew how to "crack into military computers," and the 47-year-old WikiLeaks founder merely showed her how to do it "securely," without being traced.
It was about protecting sources which is a fundamental journalistic responsibility, so those people who are saying he's a hacker, actually no, no, no, this was a journalistic activity.
Assange was dragged out of the Ecuadorian Embassy in London on April 11, where he had lived for nearly seven years. He now faces potential extradition to the US, where he is accused of conspiring to crack a password with Chelsea Manning on a Department of Defense computer.
Think your friends would be interested? Share this story!
Subscribe to RT newsletter to get stories the mainstream media won't tell you.
You can share this story on social media: