Police believe Gatwick drone drama 'may have been inside job'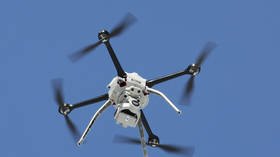 A major drone scare at the UK's Gatwick Airport in December which caused hours of delays and affected 140,000 Christmas travelers, may have been carried out by insiders with access to crucial information, according to officials.
The airport's chief operating officer, Chris Woodroofe, has revealed that investigations into the incident suggest the attacker had inside information into how authorities were attempting to deal with the crisis.
Woodroofe explained that the drone briefly reappeared every time Gatwick officials attempted to restart operations at the airport, but conceded that their information could have been gathered via a visual or radio link, or even online "where much of this information is readily available."
"It was clear the drone operators had a link in to what was going on at the airport," Woodroofe told the BBC.
READ MORE: London's Gatwick airport shut down over drone sighting
Sussex Police took the accusation one step further, however, telling the program that the possibility of an "insider" being behind the attack was a "credible line of inquiry."
The UK's second largest airport was closed for a total of 33 hours between December 19 and 21, 2018, affecting about 1,000 flights and causing travel chaos. Neither the drone nor its operator were ever captured, and a since-revoked comment by police that there may have never been a drone at all has called the entire incident into question. Some critics also questioned why the drone was never pictured or filmed by one of the eyewitnesses.
So all these sightings and not 1 person got their phone out and recorded it, not even the security officers who went out too check the runway???? Don't usually do conspiracies but something's not as it seems here???

— steph (@stephnkaiser) April 14, 2019
And yet every time it "reappeared" no one managed to film it.

— Bourbon Biscuit (@Borbassi) April 15, 2019
Well, masses of people are said by the Chief to have seen the drone on multiple occasions Why haven't they come forward? Why no photos in one of the most heavily CCTVed places on earth? Unhappily comes across as an exercise in back covering. We live in an age of incompetence.

— James Wyburd (@WyburdJames) April 14, 2019
However, claims that the drone never actually existed were quickly dismissed by the airport's operating officer, who cited over 100 sightings by airport workers – some of whom have decades of airfield experience and "know the implications of reporting a drone sighting," Woodroofe insisted.
Police confirmed to the BBC they had amassed 130 separate credible drone sightings by a total of 115 people, all but six of whom were professionals, including police officers, security personnel, air traffic control staff, and pilots.
READ MORE: UK airports spending millions on military-grade anti-drone tech after Christmas chaos at Gatwick
A couple arrested shortly after the incident on suspicion of orchestrating it were released without charge, with police saying they were not involved in the drone scare.
Think your friends would be interested? Share this story!
You can share this story on social media: