General election is best solution to Brexit chaos – Galloway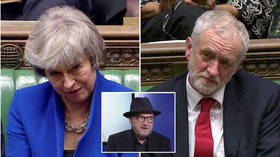 UK Prime Minister Theresa May was right to ask opposition leader Jeremy Corbyn to participate in Brexit talks, according to George Galloway. However, the veteran politician argues that she waited far too long to do it.
Meeting with the Labour leader has already cost May two government ministers, Chris Heaton-Harris and Nigel Adams, who stepped down on Wednesday.
READ MORE: Parliamentarians laugh as Tory who quit PM May's government trolls PMQs
Joking that it is "so obvious that it can not possibly be a trap" Galloway warned Corbyn that the prime minister may be trying to ensnare him into sharing responsibility for a Brexit deal which looks certain to upset Remainers and Brexiteers alike.
The former Labour MP added that Corbyn has to balance the twin duties of opposing the government and aiding the country at a difficult moment.
"I think so far he's done well," he said. "He's going into the talks without preconditions but of course that doesn't mean that he's going to agree, and he shouldn't agree, to a Brexit which will betray and disappoint tens of millions of people".
Also on rt.com
Theresa May just kicked the Brexit can right into Corbyn's allotment (by George Galloway)
Galloway explained a general election is his preferred solution for the current chaos in the UK parliament and also revealed that if the UK does participate in the upcoming European Parliament elections he will run as a candidate in the North West England constituency.
Like this story? Share it with a friend!
You can share this story on social media: