'No deal' Brexit set for April 12, unless May unites British MPs to win extension for 40 more days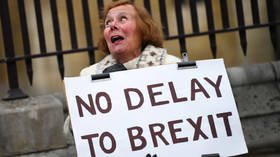 The UK will have to leave the European Union on April 12 unless British MPs agree on Theresa May's Brexit deal. If the exit deal is passed by next week, EU leaders have agreed to grant an extension to May 22.
"If the Withdrawal Agreement is not approved by the House of Commons next week, the European Council agrees to an extension until 12 April 2019 and expects the United Kingdom to indicate a way forward before this date for consideration by the European Council," the communiqué reads. "The European Council agrees to an extension until 22 May 2019, provided the Withdrawal Agreement is approved by the House of Commons next week."
EU27 responds to UK requests in a positive spirit and:👉 agrees to Art. 50 extension until 22 May if Withdrawal Agreement approved next week👉 if not agreed next week then extension until 12 April👉 approves 'Strasbourg Agreement'👉 continues no-deal preparations

— Donald Tusk (@eucopresident) March 21, 2019
If May's plan fails yet again to pass in the House of Commons next week, it would almost certainly mean a 'no-deal' scenario for the whole Brexit affair. French President Emmanuel Macron on Thursday said the ongoing situation cannot drag on "indefinitely" and that the "choice of the British people" has to be respected.
Also on rt.com
Macron says no-deal Brexit if British MPs reject May's plan again
"If British MPs reject the deal once again, there will be no deal," Macron said, during the Brexit delay summit in Brussels. "We cannot pretend after three years that the British people did not vote to leave."
'Time to deliver or put forward alternative plan' – May
Time is running out for British lawmakers to unite and ensure a "smooth and orderly" Brexit, PM May stressed at the conclusion of the European Council summit. "We will be leaving the European Union and I absolutely firmly believe that it is the duty of Parliament to deliver on that result of the referendum," she told a press conference.
Promising to do her best to rally support for her twice-rejected divorce deal, May emphasized that failure to agree on the proposal will leave the country with a 'no-deal' alternative.
We are now at the moment of decision. And I will make every effort to ensure that we're able to leave with a deal and move our country forward.
"If Parliament does not agree with a deal next week, the EU Council would extend Article 50 'til the twelfth of April. At this point, we would either leave with 'no deal' or put forward an alternative plan. If this involved an extension, it would mean participation in the European Parliamentary elections," she explained, stressing that it would be "wrong" to ask Brits to participate in these elections three years after they decided to leave the EU.
Like this story? Share it with a friend!