UK police treat Manchester New Year's Eve stabbing attack as 'terrorist investigation'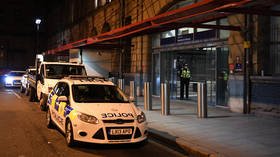 The stabbing spree which occurred in Manchester, England on New Year's Eve is being investigated as terror-related, police said. The attack left three people injured, including a police officer, and the suspect was detained.
"We are treating this as a terrorist investigation," Chief Constable of Greater Manchester Police (GMP) Ian Hopkins told reporters on Tuesday.
Police are continuing their efforts to identify the man apprehended after the attack and are currently searching an address in the city's Cheetham Hill area where the suspect is believed to have been living recently.
Meanwhile, the investigators are "retaining an open mind" regarding the motivation for the attack, according to Russ Jackson, assistant chief constable with the GMP.
The assailant began stabbing commuters at a platform of the Victoria train station around 9pm on Monday. Witnesses said he shouted "Allah" during the attack. Sam Clack, a producer with the BBC who was at the station during the incident, described the assailant's weapon as a kitchen knife with a 12-inch (30cm) blade.
Also on rt.com
3 injured in Manchester rail station stabbing, attacker reportedly shouted 'Allah'
A video reportedly filmed outside the station also shows several officers handcuffing and escorting a man who can be heard chanting "Long live the caliphate" and "Allahu Akbar" ('God is Great' in Arabic).
A woman was stabbed in the face and abdomen and a man was injured in abdomen as well before the transport police managed to subdue the attacker. The victims, both in their 50s, were hospitalized and are being treated for serious injuries.
A police sergeant was also wounded in the shoulder while tackling the suspect. He was discharged from the hospital the same day. The suspect remains in custody in Manchester.
Prime Minister Theresa May called the stabbing a "suspected terrorist attack" and thanked the emergency services for their response.
Think your friends would be interested? Share this story!
You can share this story on social media: