'Nakedly anti-Semitic image': Leave.eu slammed for posting Tory MP tweet with pic of George Soros
Published time: 5 Dec, 2018 15:54
Edited time: 6 Dec, 2018 10:57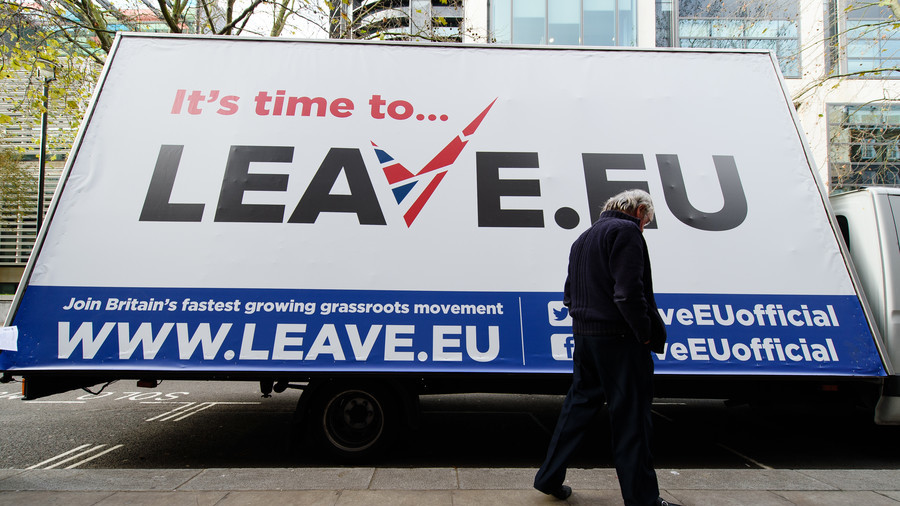 Leave.eu, the Brexit campaign group co-founded by Aaron Banks have been accused of indulging in anti-Semitism, after tweeting a comment from a Tory Brexiteer MP with an image of George Soros, the pro-remain billionaire financier.
The organisation, which campaigned for the UK to leave the EU during the lead up to the 2016 referendum, published the controversial tweet in which they warn "there's a concerted effort to thwart the will of the people."
Attached to the tweet is an image of Maria Caulfield, beside a ghost-like image of George Soros, and a quote from the MP, reading: "...the powerful elite seem to know best and openly mock the rest of us."
READ MORE: JK Rowling 'magically' masters Russian in Twitter spat with Brexit sponsor
Caulfield claims Leave.eu did not ask for her permission to publish her words and has called on the group to delete the tweet, revealing in a subsequent tweet that it was particularly hurtful "as my family are Jewish."
The organization's tweet has been picked up by Henry Newman, Director of Open Europe, a liberal pan-European think tank who described the image as shocking, labeling it "nakedly anti-Semitic." There have been claims on social media that the obsession with Soros played into anti-Semitic stereotypes of rich Jews "controlling" society.
Leave.eu's co-founder Aaron Banks has hit back at Caulfield, telling the MP they would not be deleting the tweet. Banks tweeted: "Those were your words and George Soros is funding the anti-Brexit campaign. Why do you denounce your own words?"
Soros' Open Society Foundation (OSF) has given significant funding to a number of pro-EU organisations including Best for Britain, European Movement UK and Scientists for EU.
Responding to accusations he was meddling in other nations' affairs he told the Guardian in February: "I am happy to take the fight to those who have tried to use a smear campaign, not arguments, to prop up their failing case."
Think your friends would be interested? Share this story!
Subscribe to RT newsletter to get stories the mainstream media won't tell you.