UK Tory govt first in history to be found in contempt of parliament (VIDEO)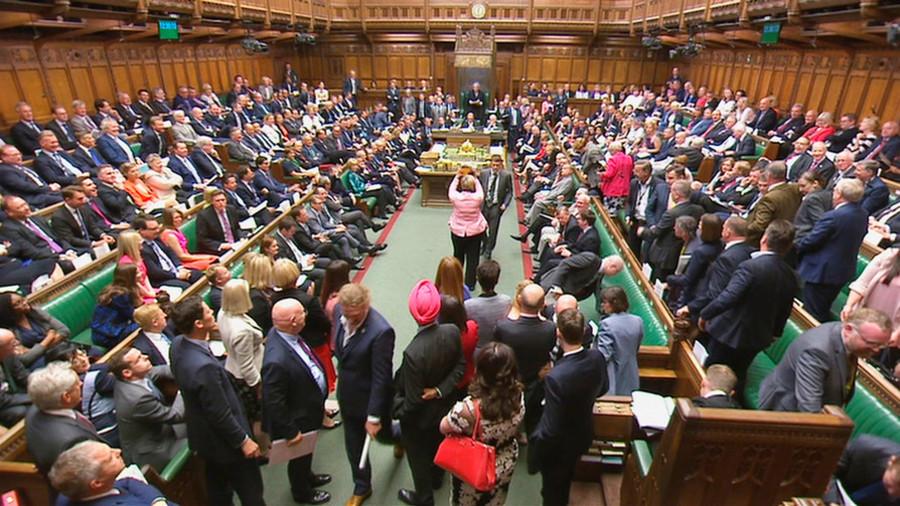 UK govt ministers have been found to be in contempt of parliament – the first time in history – after failing to publish the full legal advice concerning the Brexit deal agreed with the EU, after a vote in the House of Commons.
The contempt of parliament motion tabled by Labour and other opposition parties, including PM Theresa May's confidence and supply partners, the DUP, was passed by 311 votes to 293.
Responding to the government's defeat, Leader of the House, Andrea Leadsom, told MPs that the final and full legal advice would be published on Wednesday.
The government had initially lost a vote, 311 votes to 307, on their own amendment which would have meant the case of 'contempt' being referred to the Parliamentary standards committee.
The Tories who voted against the government on contempt of parliament:- Peter Bone- Philip HolloboneFrom the DUP:- Gregory Campbell- Nigel Dodds- Paul Girvan- Emma Little Pengelly- Ian Paisley- Gavin Robinson- Jim Shannon- David Simpson- Sammy Wilson

— Sebastian Payne (@SebastianEPayne) December 4, 2018
It's an embarrassing defeat for Theresa May's government, who now face five days of Brexit debate, before the crunch vote on the deal agreed with the EU on December 11.
In fact TWENTY SIX Tory MPs backed the Grieve amendment:Allen, Bebb, Benyon, Boles, Clarke, Djanogly, Fallon, Freeman, Graham, Green, Greening, Grieve, Heald, Johnson, Lee, Lefroy, Letwin, Morgan, Neill, Sandbach, Soames, Soubry, Thomas, Vaizey, Wollaston

— Steven Swinford (@Steven_Swinford) December 4, 2018
To complete a hat-trick of defeats for May's government, they were defeated on an amendment tabled by prominent Tory remainer Dominic Grieve that blocks any chance of a no-deal Brexit. The government lost by 22 votes – 321 to 299.
READ MORE: UK can stop Brexit unilaterally - EU legal adviser's bombshell gives hope to Remainers
It comes after one of the EU's top law officers, the advocate general Manuel Campos Sanchez-Bordona, stated on Tuesday his advice to the European Court of Justice (ECJ) that the UK could unilaterally stop Brexit by revoking Article 50.
Think your friends would be interested? Share this story!
Subscribe to RT newsletter to get stories the mainstream media won't tell you.