UK can stop Brexit unilaterally - EU legal adviser's bombshell gives hope to Remainers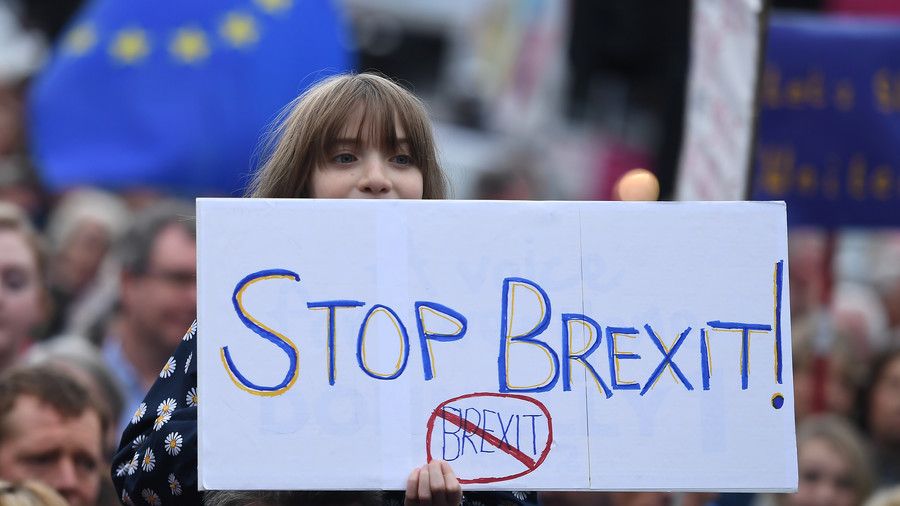 The UK has the power to unilaterally stop the Brexit process, the EU's top legal advisers have said, contradicting statements from London that Article 50 could only be stopped with agreement of all 27 EU member states.
The Advocate General, in a report prepared for the European Court in Strasbourg, stated that the UK could suspend the already triggered two-year Article 50 process, according to a lawyer for the group that brought forward the case.
The advice comes just five days before Parliament begins debating Prime Minister Theresa May's largely unpopular Brexit deal, before voting on it on December 11.
READ MORE: 'UK will be worse off': British MP Sam Gyimah becomes 7th minister to resign over May's Brexit deal
"Advocate General Campos Sanchez-Bordona proposes that the Court of Justice should declare that Article 50... allows the unilateral revocation of the notification of the intention to withdraw from the EU," the bloc's top court's statement read.
"The UK parliament has to give its final approval," wrote the advocate general, in the case of either a satisfactory withdrawal agreement being reached or in the absence of a satisfactory agreement.
This "would open the possibility for the UK to remain in the EU in the face of an unsatisfactory Brexit," he added.
The Advocate General's opinions are not binding. Judges will now decide on whether or not to accept his advice, though they have a tendency to do so in most cases.
The statement added that it would be possible for the UK to announce its intention to stay in the bloc, up until such time that the withdrawal agreement was "formally concluded."
It also stipulated that this needed to be in accordance with UK constitutional law, and that the European Council is informed and it doesn't involve "abusive practice."
ECJ says the UK can revoke Article 50 without permission. Every effort is being made on both sides of the Channel to stop Brexit.

— Nigel Farage (@Nigel_Farage) December 4, 2018
Unsurprisingly the news was received badly by chief Brexiteer Nigel Farage, who tweeted both elements in the UK and EU were attempting to stop Brexit.
READ MORE: EU migration to UK slumps to six-year low, as Brexit effect begins to bite
The news will further hinder May's plans to gain Parliament's approval for her EU withdrawal agreement. Sixteen weeks remain before Article 50's deadline on March 29. Should Parliament reject May's deal, as they are expected to do, the potential option to halt the process will look more attractive compared to the likely chaos of a no-deal Brexit.
Like this story? Share it with a friend!
Subscribe to RT newsletter to get stories the mainstream media won't tell you.
You can share this story on social media: