'Where is Mark Zuckerberg?' – lawmakers unite to taunt Facebook founder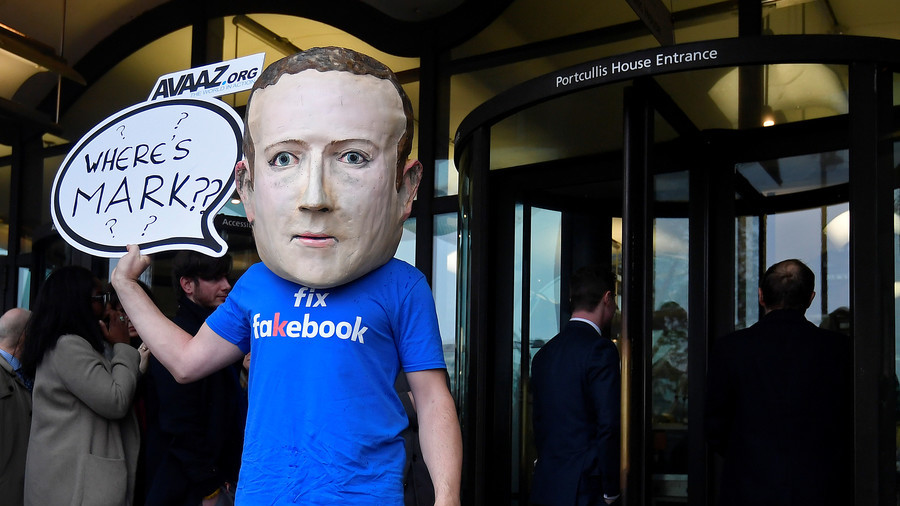 Mark Zuckerberg was mocked by lawmakers from across the world after refusing to attend a hearing on fake news. Committee members released an official photo showing an empty chair with the name-tag for the Facebook founder.
The picture was provocatively tagged: "Where is Mark Zuckerberg?"
Top officials and politicians from nine countries – whose citizens on Facebook collectively total 500 million – gathered in London to question Facebook execs. Representatives from the UK, Argentina, Belgium, Brazil, Canada, France, Ireland, Latvia, and Singapore had to make do with Richard Allan, the company's vice president on policy solutions.
The committee had invited Zuckerberg to give information via videolink, but the tech billionaire declined.
READ MORE: Soros foundation takes aim at Facebook, calls for congressional oversight
Allan risked the ire of Zuckerberg when he told the committee that it was "not great" that his boss failed to show up.
Over the weekend the UK parliament used its legal powers to seize internal Facebook documents in an attempt to hold the company to account. The seized papers – while having not been made public – reportedly contain confidential emails sent between Facebook's senior executives, and a correspondence with Zuckerberg.
READ MORE: Democrats and Republicans are both starting to get sick of social media – study
The seizure was invoked by MP Damian Collins, who also organized nine-nation 'Grand Committee on Disinformation.'
Collins slammed Zuckerberg, stating that it was "deeply disappointed by Zuckerberg's decision to ignore summons from so many nations."
Should Zuckerberg continue to duck the committee, Collins could yet release the seized documents – as he has threatened to do – potentially further embarrassing Facebook's execs.
Allan, attempting to get ahead of the story, told the committee it would be unfair to take the "internal conversations" and "robust comments" as the company's official position.
Zuckerberg has testified to US Congress twice but has so far refused international requests.
Facebook has come under intense scrutiny after being accused of helping to spread falsehoods in the 2016 US Presidential Election. The company, which has an estimated 2.2 billion users, was further tarnished in March this year after Facebook admitted the data of up to 87 million people might have been shared with Cambridge Analytica without their explicit consent.
Like this story? Share it with a friend!
Subscribe to RT newsletter to get stories the mainstream media won't tell you.