Philosopher fight: Slavoj Zizek attacks Jordan Peterson and Steven Pinker at Cambridge Union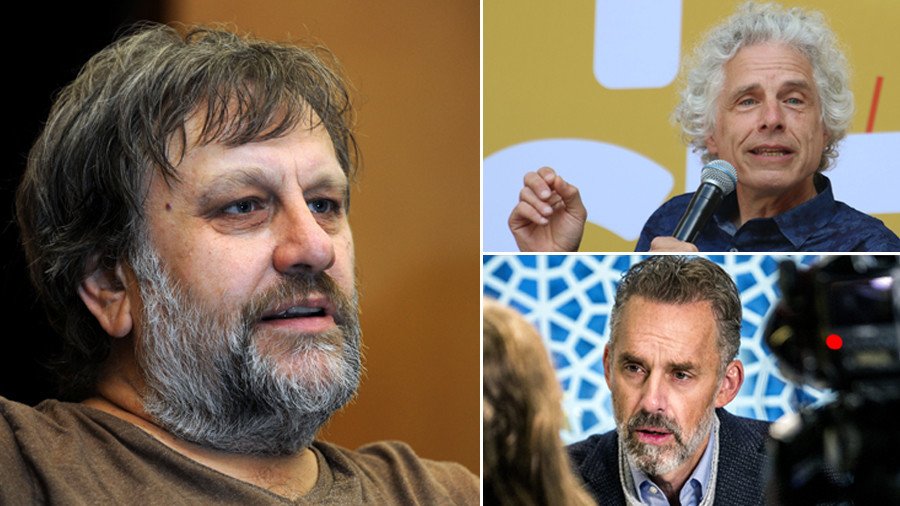 In a clash of the world's most popular philosophers, avowed communist Slavoj Zizek attacked 'pseudo-scientific' Jordan Peterson and Steven Pinker, who he described as his "enemy," during an appearance at the Cambridge Union.
Zizek, who appeared at the prestigious university's union earlier this month, rounded on his fellow philosophers in his typical unique style.
READ MORE: 'Thus spake the lobster shagger' - UK left hits back at Jordan Peterson after Jeremy Corbyn attack
Having previously praised Peterson for his contentions with political correctness, Zizek denounced the Canadian for having fallen into 'this stupid trap of using the term of the contemporary right: cultural marxism.'
The Slovenian leftist then provided a history of the term and the 'conspiracy theory narrative' that surrounds it.
Previously Zizek argued that it was Peterson's belief in cultural-marxism, a theory which is often labelled anti-semitic, that made him a fellow-traveller of the alt-right and undermined his claims to be a 'classic British liberal.'
Zizek got a laugh from the Cambridge audience when hitting Peterson's "pseudo-scientific references; he cannot talk about women and marriage without mentioning lobsters, apes or whatever," said Zizek leading to laughs from the audience.
READ MORE: Slavoj Žižek: Until the rich world thinks 'one world,' migration will intensify
In another repost to Peterson, Zizek asserted that the problem with political correctness is not that it's "too fanatically marxist" rather "it's precisely that it's not marxist."
Moving onto Steven Pinker, who Zizek described as "someone who is also my enemy," the philosopher stated that he was dubious of many of the American's "facts" which have been used to argue that "the present is much better than anytime in history."
I can't even handle this, Jordan Peterson got upset by Zizek's recent article about him so he's trying to pick a fight with a Zizek quotes account pic.twitter.com/ul8e45d3fi

— Shuja Haider (@shujaxhaider) February 14, 2018
Peterson has previously attempted to debate with Zizek, challenging him to publicly discuss "the validity of my 'apparently' scientific theories." However philosophy fans were disappointed when it turned out that Peterson had, seemingly accidentally, responded to a Zizek quote bot Twitter account.
Think your friends would be interested? Share this story!
Subscribe to RT newsletter to get stories the mainstream media won't tell you.
You can share this story on social media: