UK's first robot-assisted heart valve surgery results in patient's death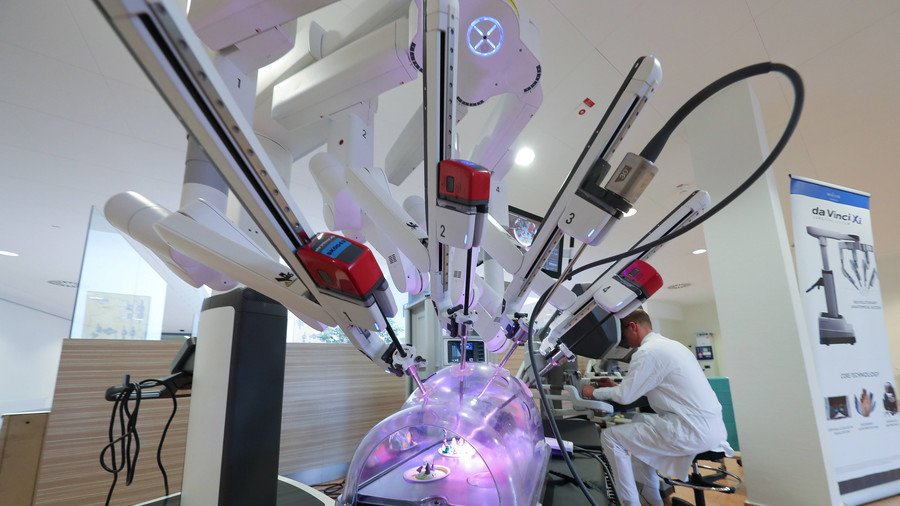 A UK hospital is probing the cause of a patient's death after the UK's first robot-assisted heart valve surgery. Was it the surgeon's lack of training? His supervisors' early departure? Poor communication? Or…the robot itself?
The pioneering robot-assisted mitral valve repair ended in catastrophe, with a cascade of failures resulting in the death of retired conductor Stephen Pettitt at Freeman Hospital in Newcastle, according to a continuing inquest as reported in the Daily Mail.
Lead surgeon Sukumaran Nair and assisting surgeon Thasee Pillay could hardly hear each other due to a "tinny" sound emanating from the robot console Nair was operating. Nair had to shout to warn his colleague that the robot, called Da Vinci, was stitching up the valve incorrectly – and then shout again when he saw the robot "knocked" one of the surgical assistants' arms.
The robot damaged the patient's aorta, spurting blood everywhere, including the camera it used to "see." As events spiraled out of control, the two supervisors – robotics experts normally on hand to take over in a crisis – were nowhere to be found, having gone home part of the way through the procedure.
The surgeons abandoned the now-blind robot and began open chest surgery to repair the tear, but by this point Pettitt's heart was functioning "very poorly." He died days later of multiple organ failure.
Consultant cardiothoracic surgeon Kevin Brennan blamed the proctors for leaving early, stating "The loss of that vital assistance was a major blow at a critical time." NHS Trust official Barry Speker read a professor's evaluation of Nair that criticized the decision to move him to robotic procedures, calling it "running before he could walk." Nair concurred and admitted he had missed multiple training sessions with the robot because he was conducting surgeries elsewhere. Surgeons are supposed to carry out 40 robotic operations on dummies before moving on to patients.
Nair also failed to inform the patient of the added risk of being the UK's first robot surgery patient. According to consultant anesthetist Dr Anthony George, Nair knew the proctors were leaving early and chose to continue with the surgery anyway. George also claims they ignored his misgivings about how poorly the surgery was going, but that he didn't force the issue as "it was not my place to harass surgeons."
The NHS has 60 surgical robots in its hospitals and has operated with robots more than 2,500 times – but never on a mitral valve before. Coroner Karen Dilks said it was "more likely than not" that the patient would have survived conventional open heart surgery.
You can share this story on social media: