Jewish groups call on UKIP to break up with 'vile' Alex Jones' Infowars in anti-Semitism row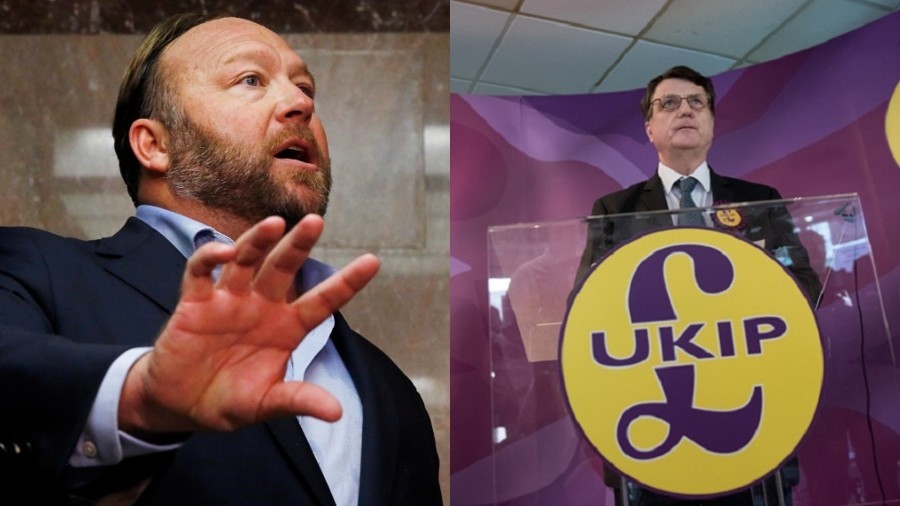 British Jewish groups have accused UKIP of indulging in anti-Semitic conspiracy theories through its links with Alex Jones' right-wing website, Infowars, calling on the party to disassociate itself from the "vile" website.
The calls come in the wake of pipe bomb plots that targeted 14 high profile figures in the US including billionaire investor George Soros, and the Pittsburgh synagogue attack that saw 11 people killed and 7 injured – with Infowars being accused of "propagating conspiracy theories and dog whistle anti-Semitism" over the incidents, The Guardian reports.
One of UKIP's latest high profile recruits is Infowars' editor-at-large Paul Joseph Watson. Watson was one of three eye-catching Youtube personalities signed up by UKIP leader Gerard Batten in June this year, to breathe new life and attract a younger demographic into the right wing party.
Jewish organisations hit out at UKIP's apparent links with Jones' website. A spokesman for the Board of Deputies of British Jews called on the party to expel any members found indulging in anti-Semitic conspiracies.
"We call on the party leadership to publicly and unequivocally disassociate themselves from these views and to expel any members who are found to hold them," he said.
Another Jewish group, the Community Security Trust, has lamented how "anti-Semitism and conspiracy theories" have seeped into mainstream politics, saying that it "encourages hatred and undermines democracy."
"Rather than shunning these dangers, UKIP appears to be embracing them," the group said.
Infowars regularly attacks Soros for being a "globalist," and has recently claimed he along with the UN is responsible for the migrant caravan currently marching towards the US border. Jones, who has been accused of peddling conspiracy theories has also argued that the bomb plot was a "false flag" event.
Commenting on the Pittsburgh synagogue murders in October, Jones said the attack could have been initiated by "the deep state." He claimed the government could have been "planning with groups they control to stage terror attacks" before the US midterm elections.
Watson and Jones deny claims they are anti-Semitic with Watson not having publicly endorsed many of his boss' more outlandish conspiracy theories. The young YouTuber, who has 1.4 million subscribers, has taken to social media to take a pop at The Guardian's story.
'Criticizing George Soros is anti-Semitic'."Israel's foreign ministry has issued a statement denouncing U.S. billionaire George Soros."So apparently, Israel is anti-Semitic too.https://t.co/4ri9yaVNO5

— Paul Joseph Watson (@PrisonPlanet) November 5, 2018
UKIP's links with Infowars through Watson has prompted renewed concerns regarding the direction of the UK's fourth-biggest party – going by polling numbers, which has lurched further right under Batten, with an emphasis on Islam.