From dumpster fires to deportation buses: The midterms' craziest campaign ads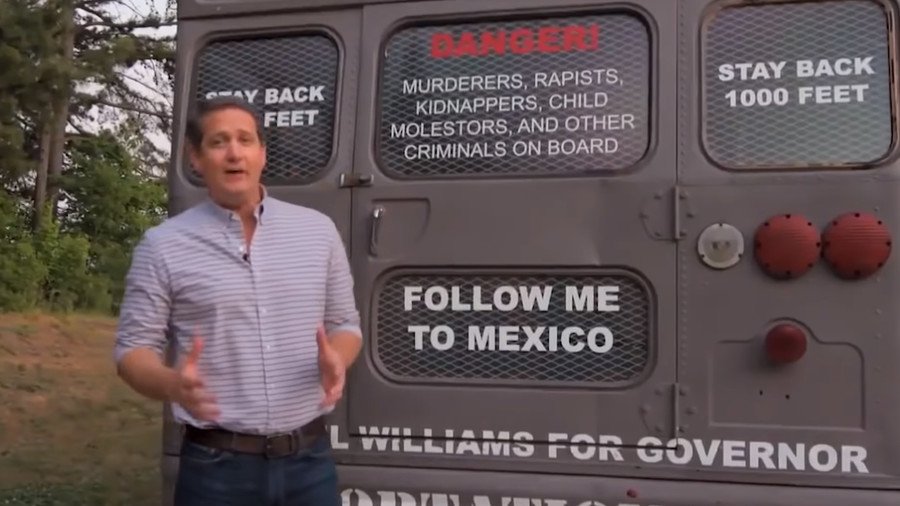 American politics has always been about spectacle, and with Tuesday's midterm elections watched closer than any in recent memory, candidates have been dredging the bottom of the barrel for creative and attention-grabbing ideas.
Here we take a look back at the political ads that, for better or worse, stood out from the pack during this election season.
Richard Painter lights a dumpster fire
Washington DC has been called a 'dumpster fire' more times than lazy journalists have used bad similes. In case the comparison makes no sense, former George W. Bush ethics counsel and Minnesota Senate candidate Richard Painter demonstrated it visually this summer.
"Some people see a dumpster fire and do nothing but watch the spectacle," Painter deadpans to the camera, as he stands in front of an actual, flaming dumpster. "Some are too scared to face the danger. Or they think it'll benefit them if they just let it keep on burning.
"There is an inferno raging in Washington. But here in the land of 10,000 lakes – we know how to put out a fire," he says, as a torrent of water pours down from above and extinguishes the flames.
Painter's unflinching stare borders on intimidating, and the steely eyed Senate hopeful was ridiculed online for his ad. Painter didn't scare anyone into voting for him, and he captured only 13 percent of the Democratic vote in his party's primary election in August, falling way behind businesswoman Tina Smith's 76 percent take.
Somehow this is a real campaign commercial for Richard Painter. The complete psychopathic stare at the end really sells it. Good luck getting votes from this commercial. 😂😂😂 pic.twitter.com/5kZcK0IsPv

— Robby Starbuck (@robbystarbuck) June 18, 2018
Ron DeSantis shows off his parenting skills
Florida Republican gubernatorial candidate Ron DeSantis' race against progressive, Bernie Sanders-endorsed hotshot Andrew Gillum has been described as a kind of litmus test for America. Endorsed by the president, DeSantis has been keen to show off just how devoted he is to following Trump's agenda, at work and at home.
In an August campaign video, DeSantis enjoys an array of wholesome activities with his children, like teaching his daughter to "build the wall," and reading President Trump's 'The Art of the Deal' to his infant son.
"Then Mister Trump said, 'You're fired,'" he tells the boy. "I love that part." The adoring father then teaches his daughter to read "Make America Great Again" from a campaign poster.
DeSantis' campaign has since been stained by racial controversy, but the race to the governor's mansion remains a tight one. Polls currently put Gillum ahead by two points.
All aboard the deportation bus
Michael Williams, a Republican gubernatorial candidate in Georgia, knows how to make a statement. In a video since pulled by YouTube for 'hate speech' violations, Williams steps off a prison transport bus rebranded as the 'deportation bus,' promising to "fill this bus with illegals to send them back to where they came from."
"We're not just gonna track them and watch them roam around our state. We're gonna put them on this bus and send 'em home!"
The bus itself is emblazoned with a warning that reads "DANGER! Murderers, rapists, kidnappers, child molestors, and other criminals on board," as well as "Follow me to Mexico."
Naturally, Twitter reacted with shock, bewilderment, and accusations of racism.
While Williams' bus toured the length and breadth of the state of Georgia drumming up support for his hardline anti-immigration platform, the message fell flat. Williams came in last place in his party's primary election in May, capturing only five percent of the vote.
Republican hit with a fantasy endorsement from Russia
It wouldn't be a list of crazy campaign ads without bringing in the Democratic party's tired attempt to blame the world's ills on Russia. In this case, a Democratic PAC released a parody ad, in which Russian President Vladimir Putin congratulates Republican House candidate Dana Rohrabacher for his loyalty to the motherland.
"You are a true Russian hero," a proud female voiceover reads. "Thank you Dana Rohrabacher for standing with Putin and Russia!"
Rohrabacher and Democratic opponent Harley Rouda are currently neck-and-neck in the polls, despite the Democratic PAC's spot of Russophobic meddling.
Dan Helmer rides into the danger zone
House Democratic candidate Dan Helmer's ill-advised attempt to recreate his favorite 'Top Gun' scene has it all: pumping music, a grand entrance, and cringe-inducing singing.
Decked out in aviators and a bomber jacket, Helmer rides up to a bar on his motorcycle. So far, so badass. Inside, he spots Republican incumbent Barbara Comstock and launches into a crudely reworded and tuneless rendition of 'You've Lost That Loving Feeling.'
Among other shoehorned lyrics: "You've lost that centrist feeling… 'cause you've been right-wing appealing."
Helmer's video didn't take voters' breath away, and the high-flying democrat lost out to State Senator Jennifer Wexton in Virginia's Democratic primary in June.
Honorable mentions
The shortlist of ill-advised campaign videos is infinite, with candidates all across the country seemingly eager to create scandal and embarrass themselves in front of millions of potential voters.
Honorable mentions that didn't quite make the cut include this Colorado House candidate pepper spraying himself to stop school shootings; this Georgia Republican's guns, trucks and chainsaws conservative manifesto; and this West Virginia Republican's assertion that Senate Majority Leader "Cocaine Mitch" McConnell has created "millions of jobs for Chinapeople."
Like this story? Share it with a friend!
You can share this story on social media: