Knives, nooses and show trials: Anonymous Tory MPs attack Theresa May using violent language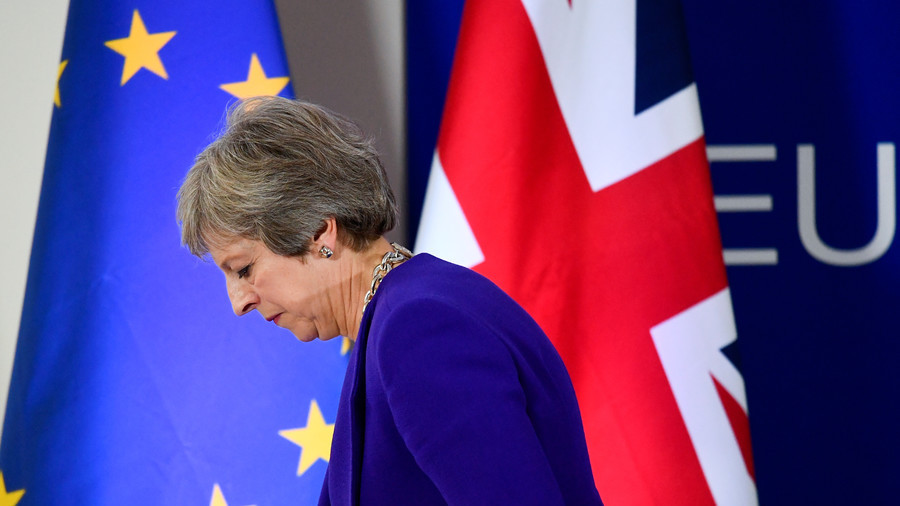 A number of Tory MPs have been quoted using violent language such as "bring her own noose," to attack British PM Theresa May, claiming she is on course to face a vote of no confidence this week from all wings of the party.
On Wednesday, May will be summoned before the Tory backbench 1922 committee, in what has been described as a last ditch attempt for the PM to save her job - a process dubbed "a show trial" by one Conservative MP, the Sunday Times reports.
Ahead of the critical meeting, a series of Conservative MPs launched an unprecedented attack on May, with language more befitting of a trailer for a blockbuster war or action movie. The paper quotes one unnamed Tory MP as saying: "The moment is coming when the knife gets heated, stuck in her front and twisted. She'll be dead soon."
READ MORE: 'I won't let us go down without a serious s**t fight,' says Tory MP in foul-mouthed anti-May rant
An ally of former Brexit secretary David Davis, who is being tipped as an interim leader said May was now entering "the killing zone", and a third remarked: "Assassination is in the air." The Mail on Sunday quotes one senior Brexiteer: "She should bring her own noose to the '22. Short of an uncharacteristically powerful, persuasive and coherent performance, then I think her time will be up."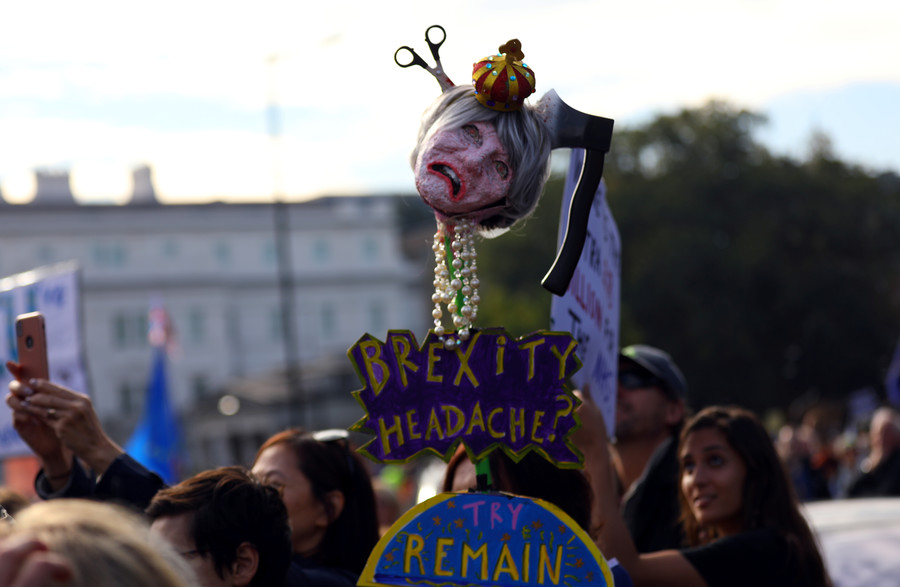 The use of violent language against the PM has been widely condemned across the political spectrum. Labour's Yvette Cooper, the head of the House of Commons home affairs select committee, told BBC 4's Today programme such language was unacceptable, especially in light of the murder of Jo Cox MP in 2016.
"This is vile and dehumanising language towards a woman MP, towards a prime minister who, no matter how much you might disagree with her, is someone who is doing a job in public life," she said.
First Minister of Scotland, the SNP's Nicola Sturgeon, has taken to social media to say that in spite of their political differences "language like this debases politics."
This morning I've seen quotes from Tories to the effect that PM is 'entering the killing zone', faces 'assassination' and should take 'her own noose' to a meeting. Few disagree with her more than I do, but language like this debases politics. Get a grip, Tories.

— Nicola Sturgeon (@NicolaSturgeon) October 21, 2018
Times columnist Iain Martin insisted any MP identified as using such politically violent language should have the whip removed followed by deselection. Others questioned whether such language would have been aimed at a male PM and raised the issue of MPs who have either been murdered or have had threats on their lives.
"She should bring her own noose to the '22." No May fan, but the Tory whips should find out who this is. If it's an MP confront them and withdraw the whip with deselection to follow. A handful of Tory MPs routinely use the language of political violence towards May. Got to stop

— Iain Martin (@iainmartin1) October 21, 2018
Shame on the spineless cowards on my benches who hide behind anonymity to use such disturbing & violent language about their own colleague & PM @theresa_may Totally unacceptable. Have they learned nothing following the assassination of Jo Cox?

— Sarah Wollaston MP (@sarahwollaston) October 21, 2018
"Killing zone?""Assassination is in the air?"@DavidDavisMP, it's barely 2 years since a female MP was murdered.So for decency's sake teach your macho-willy-waving 'allies' to exercise some verbal restraint. pic.twitter.com/yDs5JQZacT

— Rachel Clarke (@doctor_oxford) October 21, 2018
Would the language be so graphically violent if it was a male PM? We'd maybe have "whisky and revolver" type jokes. But "killing zone"? https://t.co/1xX46vc9wl

— Krishnan Guru-Murthy (@krishgm) October 21, 2018
Actually I don't know who it is. But maybe we shd all be told because it might stop him using such violent, dehumanising language against a woman again. Don't care how much people disagree with PM, targeting her with talk of knives, killing & nooses is irresponsible & vile https://t.co/I3IdA01Oyj

— Yvette Cooper (@YvetteCooperMP) October 21, 2018
Asked to comment on the use of such language, the PM's official spokesman said: "I don't intend to dignify those specific anonymous comments with a response.
"The prime minister has always been very clear that we must set a tone in public discourse that is neither dehumanising nor derogatory. Personal vitriol has no place in our politics."
Think your friends would be interested? Share this story!
Subscribe to RT newsletter to get stories the mainstream media won't tell you.