'Corbyn would be mad not to get rid of nukes': SNP would back Labour govt if they dump Trident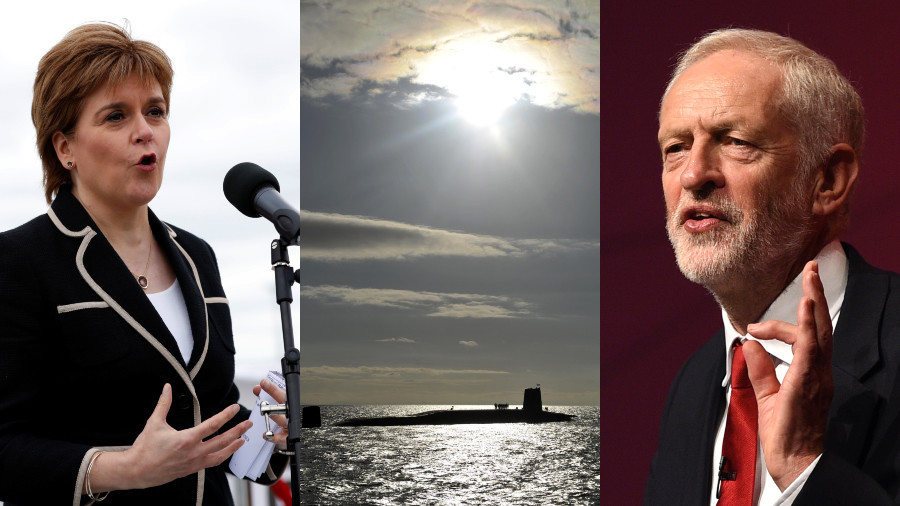 The SNP has told Jeremy Corbyn it would back a Labour government if support for the Trident nuclear program was dropped, claiming he'd be "mad" not to take the chance to rid Britain of nukes for the first time in its history.
Stewart McDonald, the SNP's defence spokesman at Westminster, has enticed Corbyn, the Labour leader and lifelong opponent of nuclear weapons, with the prospect of an SNP/Labour pact which would enable him to become Britain's PM - if his party dumped its policy to renew Trident.
READ MORE: We may have to use nukes if I don't get more cash – UK Defence Secretary Williamson
McDonald gave an interview to The House magazine in which he said that the prospect of a Corbyn-led government would present a historic opportunity – one the SNP must grab with both hands. He claims it would be "the first opportunity that would have presented itself in British history, for Britain to get rid of nuclear weapons."
According to McDonald, Scottish First Minister Nicola Sturgeon, who he says joined CND (Campaign for Nuclear Disarmament) before the SNP, would make dumping Trident a key part of any post-election negotiations, insisting Corbyn would be "mad" not to grab the opportunity to both become PM and rid Britain of nuclear weapons.
He said: "I hope that if Jeremy's in the position to form a government, perhaps with an arrangement with the Scottish National Party, then that [scrapping Trident] should be one of the key planks of any discussion that we have.
"We'd ultimately have an opportunity, the first opportunity that would have presented itself in British history, for Britain to get rid of nuclear weapons. We would be mad, and Jeremy Corbyn would be mad, not to grab that opportunity."
The issue of Trident has been a thorny one for Labour. Despite it being official party policy to back the renewal of Britain's nuclear deterrent, a large section of the grassroots membership want Labour to shift its policy to one of unilateral disarmament.
A Labour party spokesperson said "Jeremy and the Labour Party have long been committed to the nuclear non-proliferation treaty, which aims to achieve nuclear disarmament. Trident renewal is Labour policy, as set out in our manifesto."
The Labour Party has stated that it is not open to doing deals with other parties to form the next UK government.
Like this story? Share it with a friend!
Subscribe to RT newsletter to get stories the mainstream media won't tell you.