We may have to use nukes if I don't get more cash – UK Defence Secretary Williamson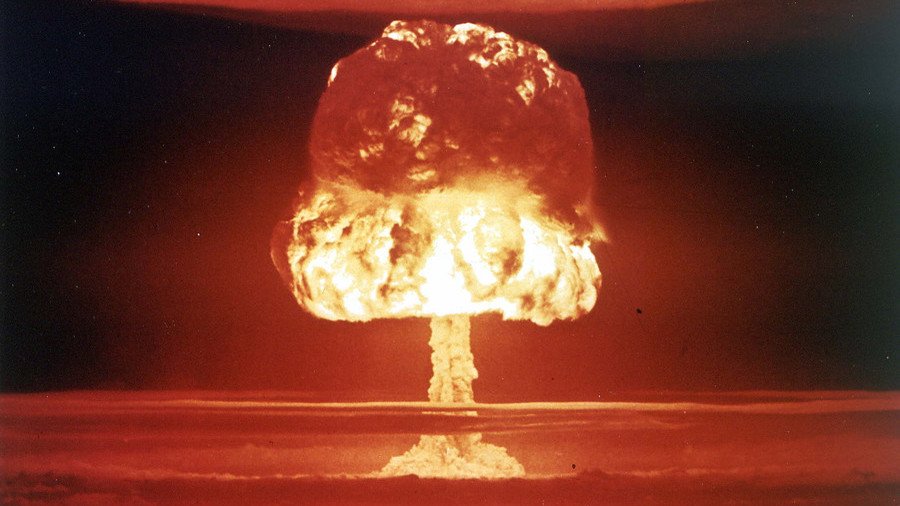 Not long after accusing Russia of planning to murder thousands of British people, Defence Secretary Gavin Williamson has warned the UK may have to use its nuclear weapons if it doesn't get a bit more cash from the government.
Speaking on the future of modern warfare, the hawkish defence chief warned Britain may have to use its nuclear deterrence if the treasury does not release funds for more conventional weapons systems.
Williamson was speaking at the Royal United Services Institute's Sea Power conference when he said: "You've got to talk about deterrence across the full spectrum right across the board."
"If we do not have that conventional deterrence, and the ability to deter from conventional forces, then what we'll find ourselves in, is a place that none of us wish to be in, and having to turn to the greatest deterrence of them all."
The defence chief has quickly garnered a reputation for hawkish statements and alarming warnings to the British public, earlier this year stating that Russia has the ability to "cause thousands and thousands and thousands of deaths" in Britain.
Williamson's comments come as the ministry of defence battles with the treasury for additional funding in autumn's budget.
According to a recently released public accounts committee report, the MoD faces a potential funding shortfall that could reach as much £20 billion ($27bn).
A clearer layout of the ministry's spending plans will be made by the department in a mini defense review due to report in July.
"It is sometimes difficult to explain to people that actually investing in our armed forces is all about making sure that things do not happen," Williamson told the conference.
"We've got to start explaining so much more clearly that a deterrence isn't just four nuclear bombs" – a reference to the four Dreadnought-class submarines that will be constructed to carry Britain's nuclear-equipped Trident missiles.
READ MORE: Trident nuclear subs: MoD faces £6bn funding gap
In the National Audit Office's (NAO) first nuclear review in a decade, released last week, it identified a hole of £6 billion in the UK's nuclear program.
A £10-billion contingency fund has already seen the MoD withdraw £600 million this year, after approval from Chancellor Philip Hammond.
'Rising Russia'
Pointing towards "Russia's resurgence under President Putin," Williamson also warned of a "rising China," as well as threats posed from "non-state actors using drones to drop bombs, ballistic missiles to attack airports and anti-ship missiles to threaten our narrow shipping lanes as well as the new and evolving threats from cyber-attacks."
A Downing Street spokeswoman said the government uses "the full range of our capabilities in defending our national security."
"The independent nuclear deterrent is the ultimate guarantee of the UK's security in the face of the most extreme threats," she said.
"The whole point of deterrent is that our enemies need to know that we would be prepared to use it, but we are committed to investing in conventional capabilities."
Like this story? Share it with a friend!
You can share this story on social media: