Theresa 'Dancing Queen' May moves it to Abba tunes ahead of key Tory conference (VIDEO)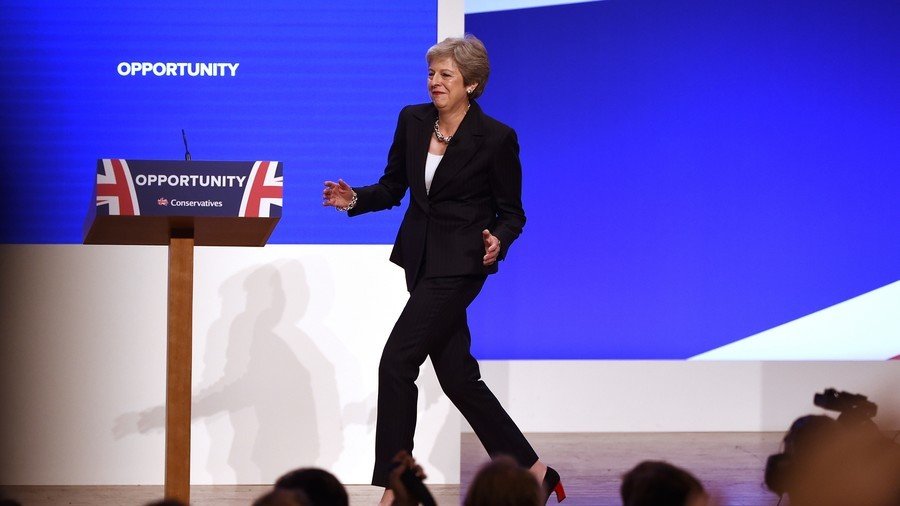 British PM Theresa May was at it again during the Conservative Party's annual conference, where she emerged on stage doing her signature "robot" groove to Abba's Dancing Queen classic.
The PM's dancing style has already been nicknamed the 'Maybot' due to her disastrous stiff and impersonal campaign performance in 2017.
The PM's moves have been mocked on Twitter, with people lamenting that she has destroyed the global 1976 hit.
Dancing queen, by ABBA, whether you like them or not, will always be an instantly recognisable song, synonymous with them.@theresa_may has just ruined that song and it's legacy, in the space of 20 seconds!!!40 years down the swanny!

— Paul Burke (@PaulBurkeLFC) October 3, 2018
thank you Theresa May for ruining ABBA's dancing queen for the foreseeable future

— lois_mcvey (@_loismcvey) October 3, 2018
May appeared cheerful as she danced to the world famous disco track in what could be a nod to her awkward dancing diplomacy during a recent trip to Africa. In late August, she entertained a group of scouts with a robotic dance in Nairobi, Kenya, during her visit to a UN campus there. May did it again with another group of dancing students in Cape Town, South Africa.
Now British Public knows why Theresa May went to Africa - not for potential trade deals , but dancing lessons. They didn't work!!!

— #Filthy Little Ted (@THELITTLETED) October 3, 2018
Others just lamented that they are now unable "to unsee" the Maybot moves.
I wish I could unsee Theresa May dancing on stage to dancing queen but sometimes life is cruel to teach us lessons

— Becky (@Becklarr17) October 3, 2018
Sweet Lord. Theresa May coming on stage at the #cpc18 doing the Maybot to the tune of Dancing Queen. Next she will be break dancing out of Brussels and cha-chaing her way out of Chequers. pic.twitter.com/H6LX8axDf1

— Sarah Gilbert (@sarah_gilb89) October 3, 2018
Theresa May moving to Dancing Queen once seen can never be forgotten.

— Dave D Lunt (@lunt_d) October 3, 2018
Think your friends would be interested? Share this story!
You can share this story on social media: