Labour will recognize Palestinian state if we win General Election - Corbyn (VIDEO)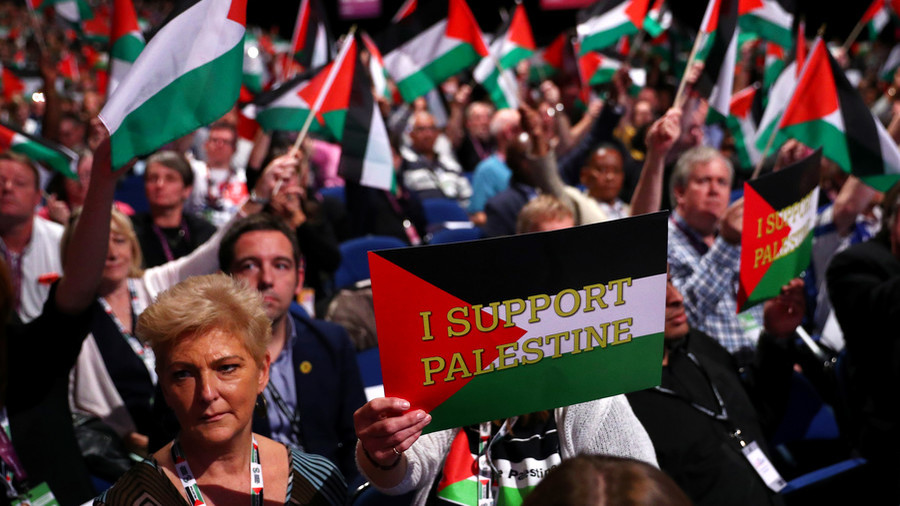 Labour leader Jeremy Corbyn said his party would recognize a Palestinian state as soon as it takes office, during his speech to the party's conference in Liverpool.
To widespread applause, Corbyn said the party would recognize a state of Palestine in order to implement the UN-brokered two-state solution.
"But a quarter of a century on from the Oslo Accords we are no closer to justice or peace and the Palestinian tragedy continues, while the outside world stands by," stated Corbyn.
"As my great Israeli friend Uri Avnery who died this year put it: "What is the alternative to peace? A catastrophe for both peoples.
"And in order to help make that two-state settlement a reality we will recognize a Palestinian state as soon as we take office."
Jeremy Corbyn has said, a Labour government would recognise an independent state of Palestine as soon as he takes office. #Lab2018

— Nadeem Ahmed (@Muqadaam) September 25, 2018
Biggest cheer in the hall so far on our estimates goes to this section of Corbyn's speech on Palestine: "And in order to help make that two-state settlement a reality we will recognise a Palestinian state as soon as we take office." #lab18

— Paul Brand (@PaulBrandITV) September 26, 2018
As I've long thought-Corbyn all but confirms that the first act of his government would be to recognise Palestine. Given everything which has happened this summer, it might have been er, wise not to hammer this point home. But it's literally what Corbyn is in politics for. #Lab18

— Lewis Goodall (@lewis_goodall) September 26, 2018
The Labour leader also condemned the killing of largely unarmed Palestinian protesters in Gaza during the Great Return March at the hands of Israeli Defence Forces (IDF) soldiers since the six-week demonstration kicked off on March 30.
Taking aim at the "ongoing denial of justice and rights to the Palestinian people," he said: "Our Party is united in condemning the shooting of hundreds of unarmed demonstrators in Gaza by Israeli forces and the passing of Israel's discriminatory Nation-State Law."
READ MORE: 'Labour's Starmer may have just cost his party the next election' – George Galloway
Tensions have heightened between Israel and the Occupied Territories of Palestine after US President Donald Trump effectively recognized Jerusalem as the country's capital. The decision was widely protested in Palestine and abroad.
The UK government is avowedly committed to a two-state solution.
Prime Minister Theresa May said she disagreed with Trump's controversial decision to move the US embassy and said the UK had no intention to follow suit.
Britain was one among the 128 countries who voted in favor of a UN resolution condemning Trump's decision.
Like this story? Share it with a friend!
Subscribe to RT newsletter to get stories the mainstream media won't tell you.