Sun boycott: British journos accuse Corbyn-supporting group of 'press censorship'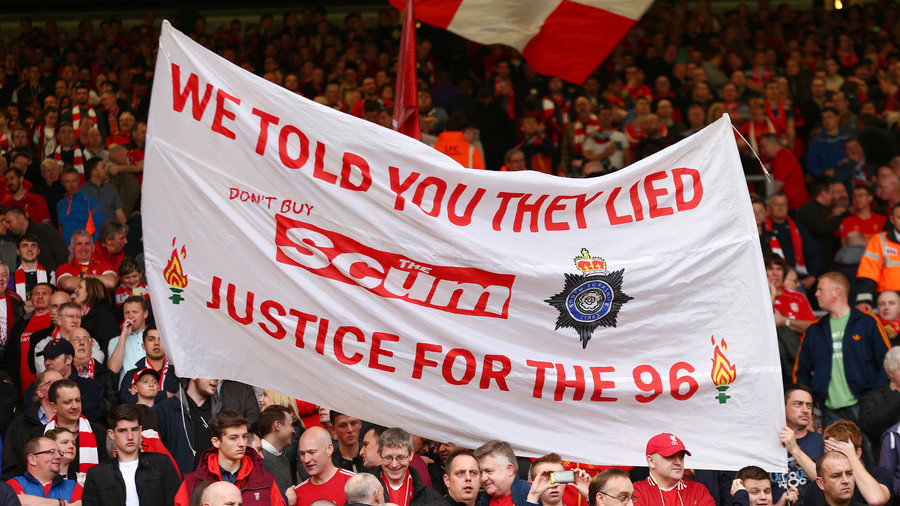 A number of British journalists have hit out at the Corbyn-supporting Momentum group for banning Sun reporters from attending a festival in Liverpool, claiming it's "censorship" and likening the ban to the actions of Donald Trump.
Journalists from a number of mainstream news outlets reacted angrily to news that The World Transformed (TWT), a festival organised by pro-Jeremy Corbyn group Momentum, has announced that they are banning Sun newspaper journos from attending their event in Liverpool.
TWT cite the false claims made by the Murdoch-owned Sun during its reporting of the 1989 Hillsborough disaster, in which 96 Liverpool football fans were unlawfully killed, as their reason for what they say is a boycott.
READ MORE: Press barons, including Rupert Murdoch, could get public money following govt review
Heather Stewart, the Guardian's political editor, took to social media to claim the ban was "outrageous" and "smacks more of Donald Trump." The Sun's political editor Matt Dathan, in a now-deleted tweet, accused Momentum of supporting "press censorship" for showing solidarity with Liverpool and the families of the 96 people killed.
This is outrageous - banning journalists because you don't like their paper's editorial line smacks more of Donald Trump than the lovely open, democratic social movement Momentum aspires to be. https://t.co/dM63xr8AR9

— Heather Stewart (@GuardianHeather) September 19, 2018
You think no Sun journalists have reported from Liverpool since Hillsborough? Won't be at the Lab conference? The Sun is the biggest selling newspaper in the country - more working class readers than anyone else. To ban it makes Momentum as bad as Trump.

— nicole lampert (@nicolelampert) September 19, 2018
A real shame given how helpful and friendly the organisers were at last year's event.

— Hugo Gye (@HugoGye) September 19, 2018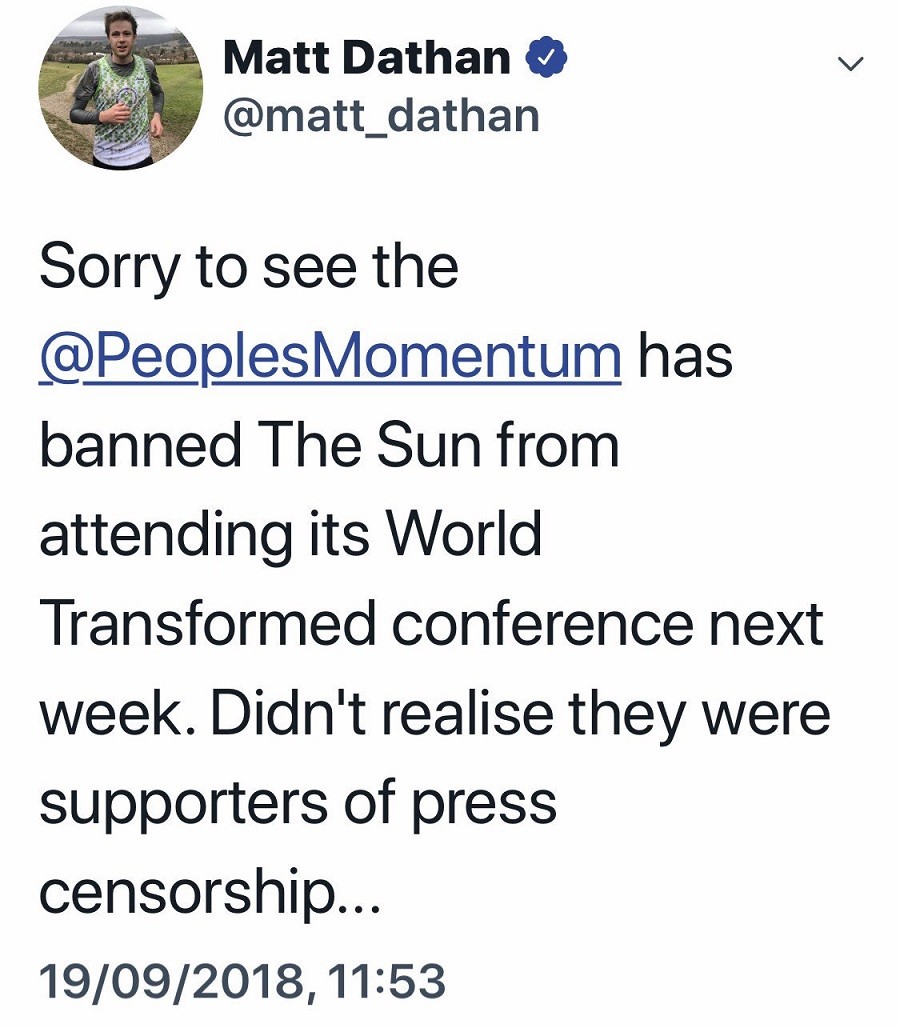 Kevin Schofield, editor of Politics Home, in an apparent dig at the proposed Sun ban, remarked on the length of time that has elapsed since the Hillsborough disaster in his tweet on the controversy.
Momentum statement on banning The Sun: "This year's festival is in Liverpool where there is a 23 year long campaign to boycott the Sun after they smeared Liverpool fans in the wake of the Hillsborough disaster."The Hillsborough disaster was 29 years ago.

— Kevin Schofield (@PolhomeEditor) September 19, 2018
Some on social media have taken issue with the outcry from journalists, backing the move from Momentum which they see as showing respect to the "victims and survivors of Hillsborough." Ash Sarkar, senior editor at Novara Media tweeted her delight at Momentum's support for Liverpool's boycott of The Sun, tweeting: "Justice for the 96, always."
They are banning The S*n journalists out of respect for the victims and survivors of Hillsborough Heather - as well you know!

— Jo Williams (@Overthebrush) September 19, 2018
Any one that rushes to attack people from Liverpool or events in Liverpool that ban The Sun or for supporting #DontBuyTheSun in the full knowledge that The Sun printed this is not a champion of free press but an apologist for fake news pic.twitter.com/uD48gbFu1u

— Stephen Hughes (@Stehughes1878) September 19, 2018
In 2017, Liverpool FC and Everton FC both decided to enact a boycott of The Sun by banning the paper's journalists from their stadiums and training grounds, as part of a wider cultural and sporting boycott of the tabloid.
The World Transformed is a political festival that runs parallel with the official Labour party conference. This year's event in Liverpool will see left-wing French politician, Jean-Luc Mélenchon, and Naomi Klein, the Canadian author and social activist, as its main speakers.
Like this story? Share it with a friend!
Subscribe to RT newsletter to get stories the mainstream media won't tell you.
You can share this story on social media: