British journo Michael Crick caught on video calling Corbyn's son his 'minder'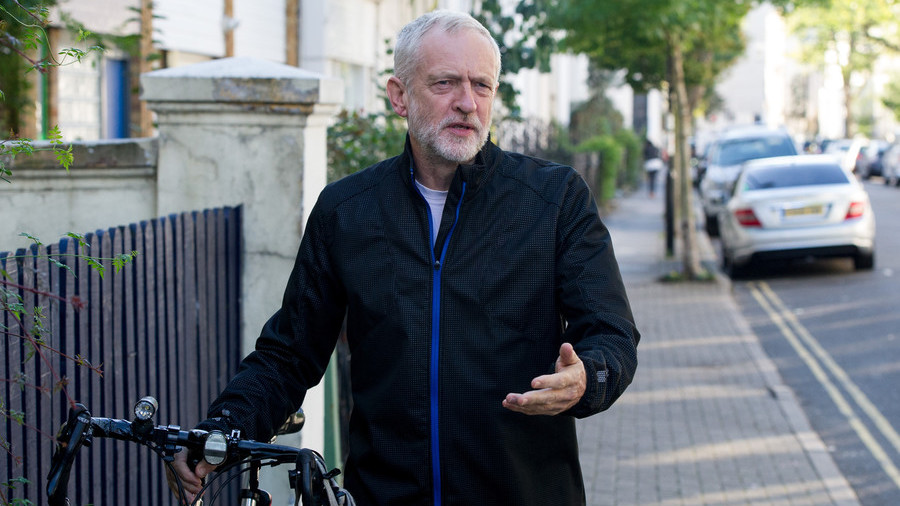 A senior British political journalist has been caught on camera labelling one of Jeremy Corbyn's sons as his "minder," while doorstepping the Labour leader, leading to accusations of unfair treatment.
Channel 4's Michael Crick made the error while filming the Labour leader outside his home, a tactic known as "doorstepping." Video footage posted on social media shows Corbyn and his son leaving their premises with Channel 4 News filming. After a brief exchange of words between Corbyn and the TV news crew, Crick then makes the faux pas, saying: "Twice his minder, put his hand over the camera lens."
That "minder" in the video is actually Tommy Corbyn, the Labour leader's son, who to all intents and purposes was simply being protective of his father. Crick, in his voiceover remarks, said that Corbyn "seemed a tad tetchy as he left home today," but that may have had something to do with it not being the first time the Channel 4 News reporter had surprised the Labour leader with a camera, up close and personal outside his home.
The journalist seems to be taking a particular interest in the mundane activities of Corbyn on his 'off-days,' having doorstepped him a few days prior to this latest episode. It's led to some on social media to ask why Theresa May hasn't been receiving the same 'harassment' on the street and questioning whether such a tactic demonstrates good quality journalism.
Corbyn has been under pressure from the British media since he became Labour leader in 2015, but there has been a noticeable increase in stories scrutinising his judgement and character, as well as his background associations with certain individuals and organisations, since the turn of the year.
From daring to ask for concrete evidence on the Skripal poisoning case and alleged chemical attacks in Syria to accusations that he was a Czech spy in the 1980s. There have also been claims that he has allowed anti-Semitism to thrive within his party, with senior Labour MP Margaret Hodge even labelling him a racist and anti-Semite.
READ MORE: Corbyn claims NATO founded to 'promote Cold War with Soviet Union' in 2014 video, is he right?
It comes as Tory Peer Lord Archer, who was sentenced to four years in jail having been guilty of perjury and perverting the course of justice, said he would vote for Corbyn if he lived in the north of England.
"I was travelling through the northwest recently," he told The Sunday Telegraph, "and as I looked out of the window it did make me think I'd vote for Corbyn if I lived up here."
Parliament is in recess as it's party conference season. From the main parties; the Lib Dems are up first, followed by Labour, the Conservatives and then the SNP.
Think your friends would be interested? Share this story!
Subscribe to RT newsletter to get stories the mainstream media won't tell you.