Corbyn claims NATO founded to 'promote Cold War with Soviet Union' in 2014 video, is he right?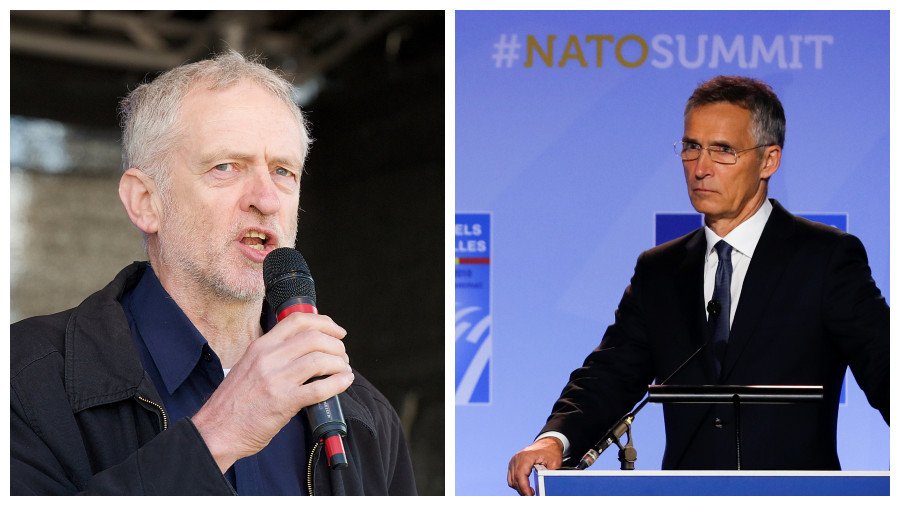 Labour's Jeremy Corbyn suggests "NATO was founded in order to promote a Cold War with the Soviet Union," in a 2014 video that has surfaced on social media, prompting fierce debate about the validity of such claims - is he right?
The Labour leader was speaking at an anti-war demonstration in Newport, Wales, when he told protestors: "1948, NATO was founded in order to promote a Cold War with the Soviet Union. That resulted in the formation of the Warsaw Pact."
Corbyn's claims have unsurprisingly divided opinion on social media with some suggesting he completely misunderstands or is deliberately lying about the formation of NATO. Others have defended the Labour leader's position, claiming "He's right though. NATO should have been disbanded after the Cold War."
Max Blumenthal, RT contributor and senior editor at the Grayzone Project, backed up Corbyn, tweeting: "Corbyn's neocon opponents are spreading footage of him making indisputably factual statements to impugn him."
In the unedited version of Corbyn's speech available on Youtube, the now Labour-leader explains that the creation of NATO, and the subsequent founding of the 'Warsaw Pact' in 1955, has meant "60 years of a ludicrous arms race which cost us all billions of pounds and dollars and damaged the civil liberties of people all over the world."
NATO, which stands for the North Atlantic Treaty Organization, was established after the Second World War in 1949 with 12 founding members: Belgium, Canada, Denmark, France, Iceland, Italy, Luxembourg, the Netherlands, Norway, Portugal, the United Kingdom and the United States. There are currently 29 members.
NATO's website states"Its purpose was to secure peace in Europe, to promote cooperation among its members and to guard their freedom – all of this in the context of countering the threat posed at the time by the Soviet Union."
It's this "countering the threat posed at the time by the Soviet Union," which divides opinion on NATO. Does "countering" solely take on a defensive interpretation or does it in practice equate to aggressive posturing?
Lord Ismay, NATO's first Secretary General, stated in 1949 that the organization's objective was "to keep the Russians out, the Americans in, and the Germans down." A philosophy seemingly intact to this day, at least with regards to Russians and Americans.
NATO has continued operating even after the end of the Cold War in 1990 when it could have been the perfect time for the alliance to "shut up shop, give up, go home and go away," as Corbyn suggested. Instead, they have expanded member nations east of Germany and along Russia's border, and made questionable forays into wars in Afghanistan and Libya, further exacerbating tensions.
Like this story? Share it with a friend!
You can share this story on social media: