UK claims men in RT interview were GRU intelligence agents despite their denial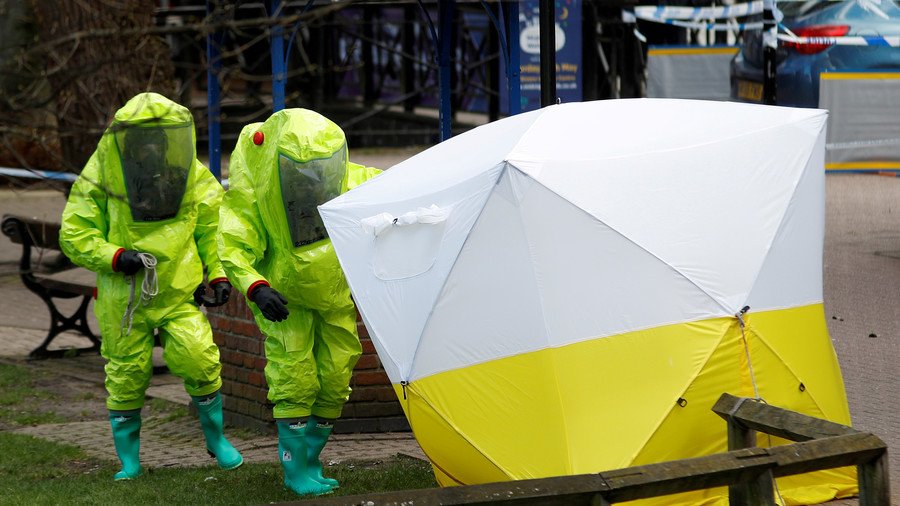 The UK Foreign Office doubled down on their claim that Alexander Petrov and Ruslan Boshirov are officers in Russian military intelligence, after the pair professed their innocence during an interview with RT.
Read the FULL TRANSCRIPT of RT editor-in-chief's exclusive interview with Skripal case suspects Petrov & Boshirov
The pair had said they had been wrongly accused by the UK of attempted murder of ex-Russian double agent Sergei Skripal, and his daughter Yulia, in Salisbury in March, stating they were in the city for tourism.
Following the interview's broadcast, UK government spokesperson told RT: "The Police and Crown Prosecution Service have identified these men as the prime suspects in relation to the attack in Salisbury.
"The Government is clear these men are officers of the Russian military intelligence service – the GRU – who used a devastatingly toxic, illegal chemical weapon on the streets of our country.
"We have repeatedly asked Russia to account for what happened in Salisbury in March. Today – just as we have seen throughout - they have responded with obfuscation and lies."
Speaking to reporters, Prime Minister Theresa May's spokesperson labelled the interview "an insult to the public's intelligence" and "deeply offensive."
The Foreign Office's claim was backed up by John Glen MP, the lawmaker whose constituency includes Salisbury.

Salisbury welcomes tourists from around the world and is very much open for business. But the Petrov/Borishov statements are not credible and don't match the widely accepted intelligence we have on these individuals. (2/2)

— John Glen MP (@JohnGlenUK) September 13, 2018
Despite the UK's claims, many questions remain over the pair's guilt.
Analysts told RT that the men either wanted to be noticed on purpose or were just two ridiculously clumsy "agents," as the surveillance cameras captured a large proportion of their movements around Salisbury.
Speaking to RT, Charles Shoebridge, a former British military officer, stressed that it's very strange for well-trained Russian intelligence specialists to leave such a "reckless and clear trail of evidence" that would lead the investigation directly to Russia.
Annie Machon, a former MI5 intelligence officer, said she doubts Moscow's alleged motive, noting that pieces of evidence presented to the public will never be "tried forensically in court," adding that there are some "big holes" in the chain of evidence.
Russian President Vladimir Putin denies the two men are military intelligence officers in the GRU, insisting they are civilians and there is nothing criminal about them.
Following the British allegations, Kremlin spokesman Dmitry Peskov stated: "Neither Russia's top leadership nor those with lower ranks, and [Russian] officials, have had anything to do with the events in Salisbury."
If you like this story, share it with a friend!
Subscribe to RT newsletter to get stories the mainstream media won't tell you.
You can share this story on social media: