British 'kingpin in £350m cocaine gang' seized in Escobar's Colombian heartland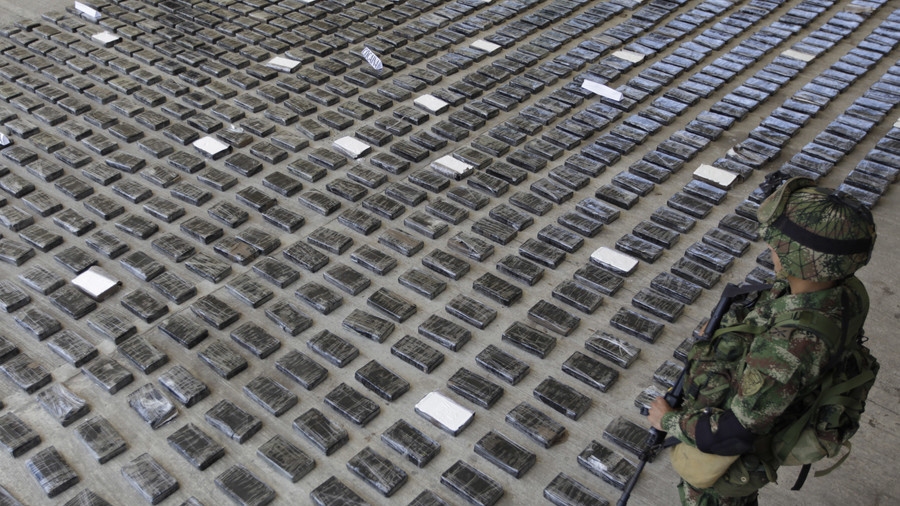 A British man has been captured by Colombian forces in the heartland of infamous drug lord Pablo Escobar – for allegedly being the 'kingpin' of a "£350 million cocaine-trafficking gang."
Andrew Deamer, 52, was captured in Rionegro, 20 miles from Medellin – once home to the notorious Escobar – after allegedly operating a number of Breaking Bad-style labs where cocaine could be chemically disguised as dog or cat food and fertiliser, reports the Mirror.
One former US drug enforcer says that Deamer had worked his way into the confidence of the brutal cartels, claiming: "He put his head into the lion's mouth." He also suggests that the Brit could be involved in drug trades worth around £1.2 billion.
Deamer was captured last November, but details of the arrest have only come to light after video footage of the raid was supplied by Fiscalia, Colombia's Attorney General's office, according to the paper.
The video, published by the Mirror, shows Deamer clambouring down from an attic bolt-hole in an early morning raid, before being marched out by military forces along with his Colombian wife Marcela Zapata, 37, in a swoop which busted a £354 million drugs ring.
Fiscalia alleges Deamer, who had the nicknames – 'El Mono', Spanish for The Monkey, and 'Marcos,' a reference to the TV series Narcos – is responsible for tons of cocaine sent to the UK, Europe and the US. The British press have taken to calling Deamer, originally from Barrow-upon-Soar, 'The East Midlands Escobar.'
The attorney general's office said chemists, working for the cartel, applied a unique method to make cocaine look like pet food, adding: "Our seizures revealed the use of multiple controlled substances, essences and dyes to ensure the cocaine had a similar shape, smell, texture and appearance to legal products.
READ MORE: Mum of 6yo epileptic boy becomes first to legally bring 'miracle' cannabis oil into UK
"When it was received at the destination, chemists had to travel there to reverse the process for the drug to be sold."
He is now locked up in Bogota's infamous La Picota prison. He has managed to negotiate a lighter sentence – 14 years and eight months – after signing a "preliminary agreement" to assist local authorities with their investigations.
Like this story? Share it with a friend!
You can share this story on social media: