Sales of Monsanto's RoundUp weedkiller reviewed in UK after US ruling on cancer link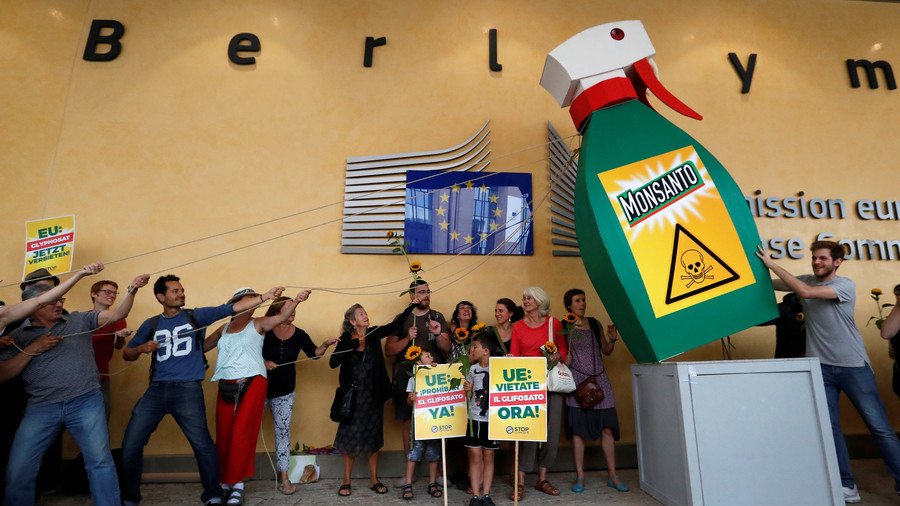 Some of the UK's top DIY chains have put the popular weedkiller RoundUp under a safety review, after a landmark ruling in the US saw a man with terminal cancer successfully sue its manufacturer Monsanto.
Homebase, which has over 250 stores across the UK, said Saturday that they would review all of their products which contain the herbicide glyphosate. "We have confirmed that we will be reviewing our range of weedkiller products," a spokesperson for the company said.
Another store, B&Q, said that they have been reviewing its weedkillers regularly since 2017.
"We have a record of acting ahead of legislation where appropriate. We led the way in removing three pesticides in 2013 and neonicotinoids from our flowering plants in 2018.
"We offer alternatives to glyphosates and are currently undertaking a broader review of all our garden products," a spokesman for B&Q said.
The announcements come after an American school groundskeeper, Dewayne Johnson, successfully sued the agrochemical giant Monsanto in a landmark case. Johnson says he developed non-Hodgkin's lymphoma after using Monsanto's RoundUp and Ranger Pro weedkillers for years.
A California state jury awarded Johnson $289 million (£226m) in compensation on Friday after finding Monsanto had not adequately warned users of the herbicide's risks. They also found company officials to have acted with "malice and oppression" in their selling of the product despite its risks being known.
Environmentalists have long spoken out against the threats posed by such products that include glyphosate with the UK Soil Association claiming that traces are often found in bread, according to the BBC.
Emma Hockridge, head of policy at the Soil Association, said the "landmark" ruling in the US highlighted the "problem with relying on chemical pesticides globally as so little is known about the long-term environmental and health impacts."
Monsanto have insisted that their weedkiller products remain safe for users, with vice president Scott Partridge saying the company would appeal the verdict to "vigorously defend this product".
"Roundup has been safe for four decades and will continue to be safe. There is no credible scientific evidence that demonstrates otherwise," he told the Press Association after the ruling.
READ MORE: Monsanto accused of 'fraud & bullying' during court hearing on 'probably carcinogenic' weed killer
Farmers in the UK have also backed the continued use of the product. Guy Smith, vice-president of the National Farmers' Union said the California ruling would do little to curb its use in UK.
"Its most common use in UK farming is to kill weeds in the autumn before seeds are planted. On my land right now, I'm spraying it today," Smith told the Daily Express.
"Without glyphosate, I would have to plough and cultivate the land. That would use extra diesel, which is bad for the soil and the environment."
Backed by the European Commission, assessments by the European Food Safety Authority and the European Chemicals Agency have not yet found any link between glyphosate and cancer in humans. In November 2017, EU member states voted in favor of renewing a license for the sale of glyphosate for another five years.
A statement by the UK government said its "priority is the protection of people and the environment", adding that decisions on the use of pesticides "should be based on a careful scientific assessment of the risks."
"Once outside the EU, we will continue to make decisions on pesticides based on the best available science," it added.
Think your friends would be interested? Share this story!
You can share this story on social media: