BoJo's incendiary burqa comments defended by Tory MP & BBC journalists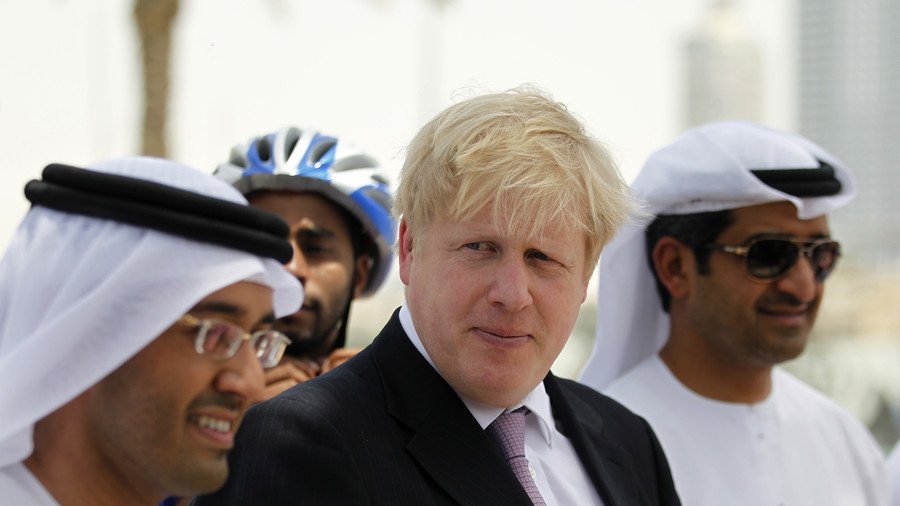 Britain's former Foreign Secretary, Boris Johnson has been defended after causing a furore over his "Islamophobic" comments, after describing Islamic dressed women as "letter boxes" and comparing them to a "bank robber".
Britain's former Foreign Secretary Boris Johnson has been defended following the fallout from his "Islamophobic" comments. He described Muslim women in burqas as looking like "letter boxes" and comparing them to a "bank robber."
Johnson has come under increased pressure from the top of the Conservative party following interventions from Prime Minister Theresa May and Tory chairman, Brandon Lewis. The latter requested that he apologize for is inflammatory comments, made in his Telegraph column on Sunday.
However, Johnson has so far refused to apologise, despite widespread criticism. The majority of his own MPs have stayed silent on the issue, but there remains a few supporting voices for BoJo from the world of politics and journalism.
John Humphrys, BBC Radio 4 presenter
The co-host of the BBC's 'Today' program came to the defense of Johnson during his program on Wednesday, insisting he used "typically colourful language" and asking "shouldn't we be allowed to cause offence to people?"
The veteran BBC radio presenter's comments have angered social media users on Twitter, with some accusing him of "normalising racism" and questioning whether Humphreys would be "deploying that argument when it came to Labour and anti-Semitism."
His co-host Nick Robinson has also felt the ire of listeners to the BBC's flagship political radio show, after he asked: "Isn't there a danger that if we police every word, we play into the hands of extremists," and "What is he being asked to apologise for?"
One Twitter user said: "Oh the hypocrisy of Nick Robinson...When BBC have given hours of airtime forensically analysing everything that Corbyn has ever said and done."
Brendan O'Neill, editor of Spiked Online
O'Neill has written an article in his Spectator column entitled, 'Boris Johnson and the liberal criticism of Islam' in which he jumps to the defense of the former foreign secretary's "letter boxes" and "bank robber" comments.
He claims the portrayal of Johnson as a "hard-right tyrant" for simply being critical about Islam, is a "rash reaction" that can lead to "being branded an 'Islamophobe,' a racist, a fascist."
O'Neil writes: "The rash reaction to Boris's comments, the depiction of him as a hard-right tyrant, confirms that it is now tantamount to thoughtcrime to say anything critical about Islam.
"To make any kind of moral judgement about Islamic practices, to question its beliefs or its prophets or its garments, is to run the risk of being branded an 'Islamophobe,' a racist, a fascist."
Andrew Bridgen, Tory MP
The backbench Conservative MP for North West Leicestershire was interviewed by Sky News' Kay Burley – and gave a show of support for Johnson. He argued that Johnson was being wrongfully hammered by 'the Left' and his Tory opponents, and the story had gained traction only because of the news 'silly season' over summer.
The fellow Tory Brexiteer claimed that he feels "uncomfortable" talking to a woman in a burqa, but it's the same feeling he would have talking to "someone with a crash helmet with the visor down."
Bridgen told Sky News: "They don't get that behavioural feedback and it makes me uncomfortable – but someone wearing a burqa does not make me feel any more uncomfortable than having a conversation with someone with a crash helmet with the visor down. That's just perfectly natural."
Johnson used his Telegraph column on Sunday to criticise the "oppressive" burqa in the wake of Denmark imposing an outright ban on Islamic full-face veils.
"It is absolutely ridiculous that people should choose to go around looking like letter boxes," he wrote.
"If a constituent came to my MP's surgery with her face obscured, I should feel fully entitled – like Jack Straw – to ask her to remove it so that I could talk to her properly.
"If a female student turned up at school or at a university lecture looking like a bank robber then ditto," Johnson added.
Like this story? Share it with a friend!
You can share this story on social media: