'They look like letter boxes': Boris Johnson sparks racism accusations after article on Muslim women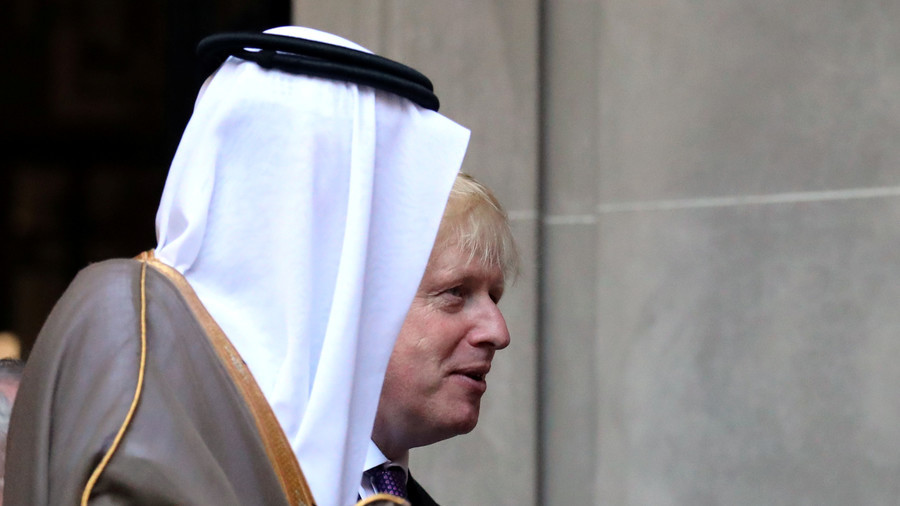 Former British Foreign Secretary, Boris Johnson has added to his long list of offensive comments by describing women who wear the niqab as "letter boxes" and compared those that adorn the burqa to a "bank robber".
Johnson, who quit his ministerial position in July, due to his dissatisfaction at what he sees as PM Theresa May's "soft brexit" approach, made his comments in his latest Telegraph column which focused on Denmark's recent decision to impose a full-face veil ban for those of the Islamic faith.
Johnson labelled the religious symbol "oppressive", and claimed of the niqab: "It is absolutely ridiculous that people should choose to go around looking like letter boxes." On those that wear the burqa he appeared to draw comparisons with a female student who turned up to school "looking like a bank robber" – adding they should be asked to remove their face covering.
He stopped short of demanding a total ban on face coverings in public because it would be interpreted as anti-Muslim and "fan the flames of grievance."
Britain's ex-top diplomat has enraged MPs and political commentators on social media, with some accusing him of "fanning the flames of Islamophobia" and others insisting a gaffe is not a gaffe if it's repeated continually, considering Johnson's chequered history on issues of race.
Labour backbench MP for Tottenham, David Lammy branded Johnson Britain's "pound-shop Donald Trump" who was inciting Islamophobia "to propel his grubby electoral ambitions."
Muslim women are having their burkas pulled off by thugs in our streets & Boris Johnson's response is to mock them for "looking like letter boxes." Our pound-shop Donald Trump is fanning the flames of Islamophobia to propel his grubby electoral ambitions.https://t.co/51YTjIdT4x

— David Lammy (@DavidLammy) August 6, 2018
Fellow Labour MP Stella Creasy said: "Dear Tory leadership voters – one of the potential candidates thinks you want Bannon not Boris on the ballot paper.
"Make sure you tell him being a buffoon not being a racist and misogynist more British and more your bag before he goes full Morrissey."
Guardian journalist Dawn Foster tweeted: "They're not "gaffes" if he keeps doing them, are they."
Now that Boris Johnson is playing the Islamophobia card, likely in order to cynically play to the Tommy Robinson crowd and restore ToryKIP alliance... allow me to reassert the charge: https://t.co/OYpyvC6Azk

— Mike Galsworthy (@mikegalsworthy) August 6, 2018
Miqdaad Versi, Assistant Secretary General of the Muslim Council of Britain, who has been campaigning for the Tories to conduct an informal investigation into allegations of widespread Islamophobia in the Conservative party tweeted: "Is this language anything other than pandering to the far-right?"
Boris Johnson says a woman in niqab is "looking like a bank robber" or "looking like letter boxes". Is this language anything other than pandering to the far-right? Deeply disappointing that @Telegraph platforms this disgusting language.https://t.co/UegBG1f81T

— Miqdaad Versi (@miqdaad) August 6, 2018
Johnson has committed a series of offensive remarks both before and during his time as an MP. He previously called black people "piccaninnies" with "watermelon smiles", former US President, Barack Obama "part-Kenyan" and talked about whisky exports in a Sikh temple, prompting outrage from many quarters, including fellow Tory MPs.
The Tory MP for Uxbridge and South Ruislip resumed his Telegraph column just weeks after resigning as Foreign Secretary, putting him at odds with Whitehall's jobs watchdog who set a three-month rule on any new paid positions taken up after leaving office.
It has not been confirmed what remuneration Johnson will receive in his role as a Telegraph columnist, but the job previously paid £250,000 a year – a salary he described as "chicken feed".
Like this story? Share it with a friend!