Bannon & BoJo 'in contact': Links grow between Trump's alt-right guru & Brexiteers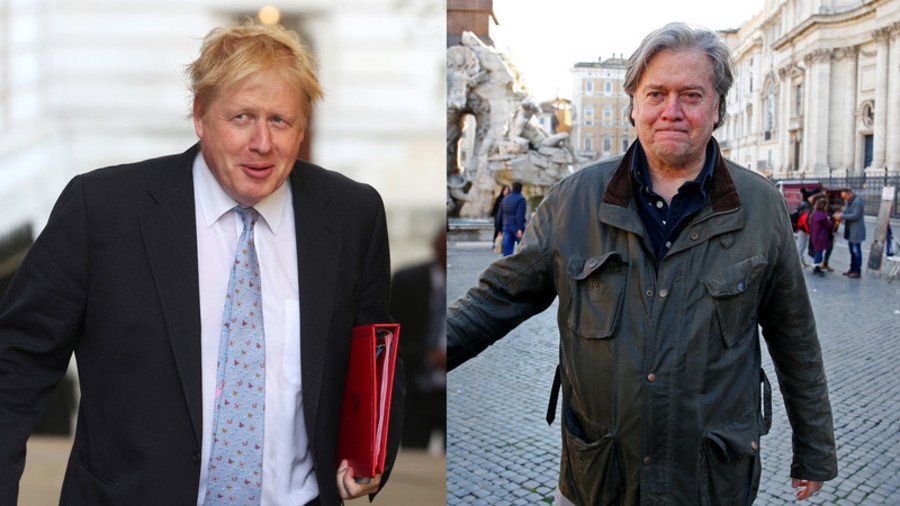 Steve Bannon's ties to Brexiteers are deepening with reports that Donald Trump's former strategist has been in contact with ex-UK Foreign Secretary Boris Johnson for some time, according to Buzzfeed News.
A source for Buzzfeed News said Bannon was "in private contact" with Johnson during his trip to the UK last month. A further source told the publication that their contact stretched back to when Bannon was in the White House and Johnson was foreign secretary. That suggests that their correspondence has been going on since at least August 2017.
Johnson is not the only Brexiteer in contact with Bannon. In December 2017 he met with Tory grassroots darling and EU hater Jacob Rees-Mogg. The MP said Bannon was "an interesting man to have met."
While Bannon's relationship with Nigel Farage is no secret, the former-UKIP leader is one of a host of European right-wing figures who have reportedly signed up for Bannon's 'supergroup' – aimed at entering the European Parliament at the 2019 elections.
The far-right political strategist's visit to the UK coincided with that of his former boss, President Trump. It was at that time that Bannon unleashed a charm offensive on Johnson.
In an interview with the Daily Telegraph, Bannon urged Boris to act: "Now is the moment...If Boris Johnson looks at this... There comes an inflection point. The Chequers deal was an inflection point. We will have to see what happens."
While on Farage's LBC radio show, Bannon stated that he'd always been "very impressed" with Johnson, adding: "If you look at Boris's resignation letter and if you look at him and his writing, if you look at his book on Churchill. He is a student of Churchill."
Johnson – who once said that Trump was "clearly out of his mind" – has characteristically changed tack, praising the US leader and stating that Trump would do a great job of Brexit negotiations. In turn, the US leader endorsed his "friend" Johnson, claiming he would become a "great prime minister."
Like this story? Share it with a friend!
You can share this story on social media: