Tory MP slams Donald Trump and Boris Johnson as 'giant egos who believe in fake news' (VIDEO)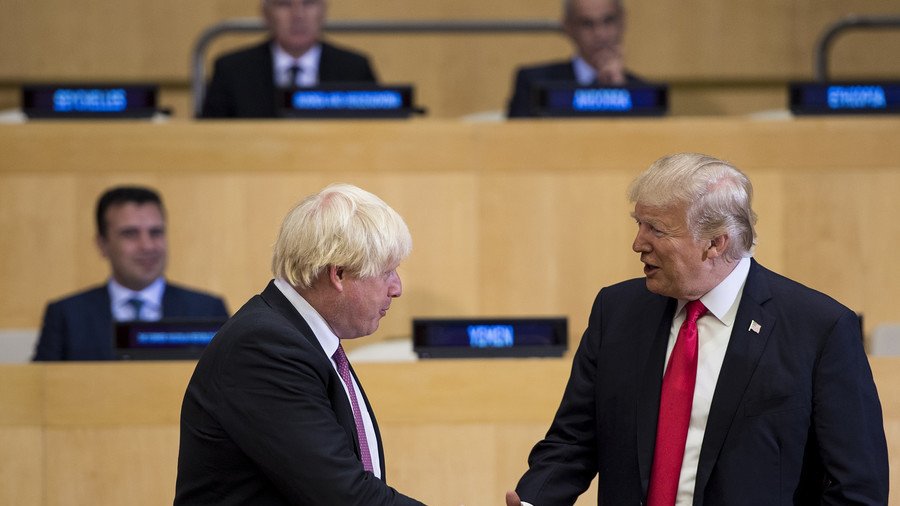 A Tory MP seems to have taken the colloquial idiom "to kill two birds with one stone" literally as he managed to launch a scathing attack on both Trump and former Foreign Secretary Boris Johnson in a single 30-second intervention.
Speaking in the Commons on Wednesday, Conservative MP Keith Simpson told Prime Minister Theresa May she should be "commended" for meeting US President Donald Trump at her country residence in Chequers last week.
"My right honourable friend should be commended for […] a week ago in dealing with a giant ego, somebody who believes that truth is fake news, leaks continually – and I'm not referring to the right honourable gentleman for Uxbridge [Boris Johnson], I am of course referring to President Trump," the MP said.
The US leader recently drew MPs' ire after he claimed in an explosive interview to the Sun just as he landed in London that he thinks Johnson would be a "great Prime Minister," and that the PM's Brexit plan would kill the prospect of the UK and US striking any future trade deal. He changed his mind after meeting the PM, later saying a deal is "absolutely" possible.
Trump also stirred controversy among his Western allies when he dismissed US intelligence claims Russia meddled in the 2016 election. He rowed back on the comments on Wednesday morning saying he meant the exact opposite.
READ MORE: UK PM Theresa May says Donald Trump told her to sue the EU
Continuing in his criticism of Trump, the MP managed to shoehorn in a question about the Amesbury and Salisbury poisonings. He asked May why she was "not alarmed at the way in which he refused to challenge [Russian President Vladimir] Putin over Russian activity that resulted recently in the death of a young woman here in Salisbury?"
Dawn Sturgess, 44, died after allegedly being exposed to Novichok on June 30 in Amesbury. The Wiltshire town is just eight miles from Salisbury, where former Russian double agent Sergei Skripal and his daughter Yulia were struck by the same nerve agent at the beginning of March.
Despite the British government blaming Russia for both incidents, police have not named suspects in either case, or produced evidence to back their claims.
If you like this story, share it with a friend!
You can share this story on social media: