1,800yo Roman gold ring discovered by metal detectorist (PHOTOS)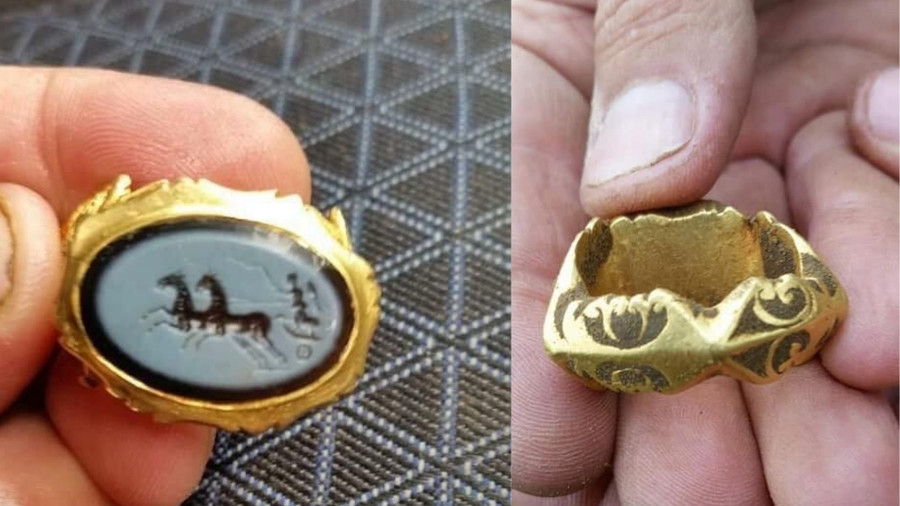 A history enthusiast has uncovered an 1,800-year-old gold Roman signet ring in Somerset. The incredible artifact was found using a metal detector, and is in remarkably good condition.
The 24-carat gold ring features an onyx engraving of the Roman goddess of Victory, and is believed to have belonged to a 'high status' figure from 200-300 AD.
Amateur treasure hunter and former army private Jason Massey, 45, discovered the rare piece of jewellery in a field near Crewkerne, at the same site where a rare Roman lead-lined coffin was previously found.
READ MORE: Pompeii horse discovered during investigation into grave robber tunnels (PHOTOS, VIDEO)
The value of the find has yet to be determined by the British Museum, however Massey and the landowner will share 50 percent of the profits.
The site of the discovery is believed to have once been a high-status Roman villa. The find was made during a charitable dig with the 'Detecting for Veterans' group. Together the group also unearthed 60 Roman coins on Sunday, but excavations of the Crewkerne site continue.
Like this story? Share it with a friend!