'U mad bro?' Twitter descends into right-left spats over Tommy Robinson release from jail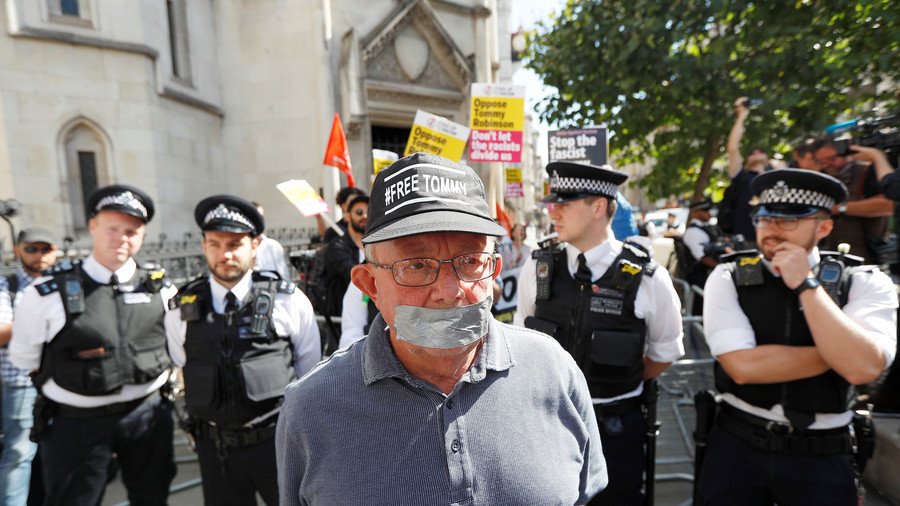 Supporters and critics of Tommy Robinson have descended into tit-for-tat spats over the merits of the former English Defence League leader winning his court challenge, securing his immediate release on bail.
It didn't take long for pro and anti-Robinson social media users to clash over the judges' decision. In London on Wednesday Lord Chief Justice Lord Burnett and two other judges quashed a finding of contempt made against Robinson over an incident in Leeds in May – ordering a new hearing over the allegation.
It's been a case of contrasting emotions on Twitter – joy from Robinson's loyal backers and sobering reflection from his critics.
YouTube political commentator Paul Joseph Watson, a self-proclaimed classical liberal, who has been accused of being a key protagonist of the alt-right, has reignited his long-running feud with anti-fascist activist and writer, Mike Stuchbery.
Watson tweeted Stuchbery, taunting him over the ruling.
Stuchbery didn't take Watson's bait, claiming he was happy that the "hero" of the far-right and advocates of a specific selection of "free speech" would now have his case properly assessed so there would be "no cloud over the conviction."
Peter Jukes, journalist at Byline, locked horns with Alan Mendoza, of the neo-conservative think tank the Henry Jackson Society. Jukes showed displeasure at Mendoza commenting on Robinson's case, asking "what has he got to do with their remit?"
Mendoza fired back that Jukes was "ideologically bitter" due to his intolerance of those airing views about the "failure of legal process" in the Robinson case.
Katie Hopkins, the controversial far-right media personality, and ally of Robinson on social media, has never been one to shy away from sharing her views on contentious topics. She reacted with a demand that the original judge apologise.
Hopkins tweeted: "Looking forward to an apology from the Leeds Judge – Judge Geoffrey Marson, QC #FreeTommy."
Geert Wilders, the leader of the Dutch Party for Freedom couldn't contain his happiness at the court of appeal's ruling, which he sees as freedom for Robinson.
In turn, Robinson critics reminded Twitter that he was not in fact 'free,' still facing a hearing for the original charge and reminding their followers of Robinson's criminal history.
The Guardian's media editor, Jim Waterson, has highlighted the fact Wednesday's court ruling is "fairly critical" about how Robinson's case which originally handled – far too rushed when it needn't have been.
Robinson is not yet an entirely free man as he has been released on bail – with conditions attached. The Guardian reports that Robinson has been ordered to attend a retrial in London and to remain at least 400 meters away from Leeds crown court while on bail.
Like this story? Share it with a friend!
You can share this story on social media: