Pompeii horse discovered during investigation into grave robber tunnels (PHOTOS, VIDEO)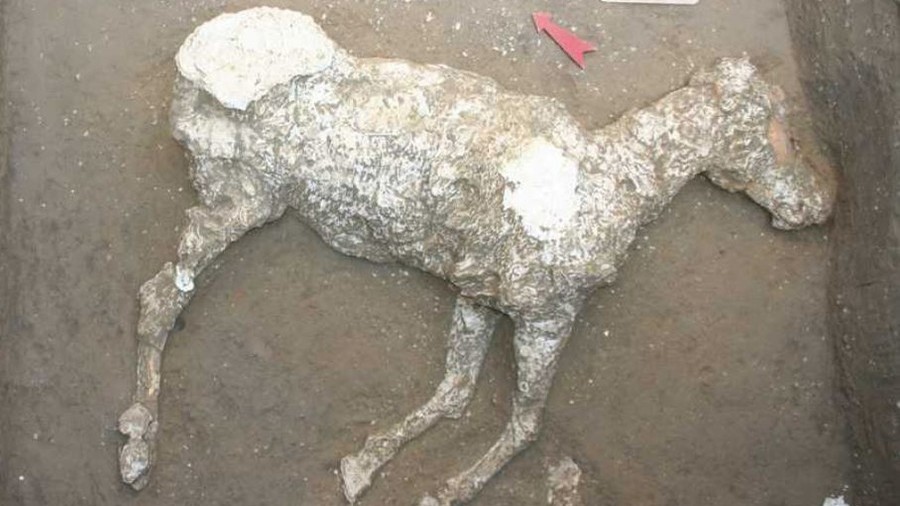 The full body of a horse swamped by lava during the volcanic eruption at Pompeii has been unveiled by archaeologists. The remains are part of a number of artefacts rescued as the Italian military investigated grave robber tunnels.
The secret tunnels, which Italian investigators believe were built by thieves targeting valuable antiquities, were intercepted last August.
READ MORE: Ethiopia demands UK return pillaged treasure taken 150 years ago (DEBATE)
Located outside the northern walls of Pompeii, the vast Roman site preserved since an explosive eruption at Mount Vesuvius in 79 AD, the tunnels led to a greater excavation of the Civita Giuliana area, yielding part of a stable and suburban villa.
Now, separate artefacts found during this excavation have been revealed and include parts of a bed, kitchen utensils, and the first fully recastable body of a horse.
According to the management of the Pompeii Archaeological Park, which is a UNESCO site protected by the Italian government, the lava that consumed the horse during the violent eruption allowed researchers to rebuild the shape of the animal in plaster.
In a statement, park authorities said the discovery of the tunnel exposed "a series of service areas of a large, exceptionally well-preserved suburban villa," which yielded several artefacts.
"For the first time it was also possible to return, through the technique of casting, the integral shape of a horse found in one of the excavation rooms," the statement added. "Extraordinary find from Pompeii."EditDelete
The Minister of Culture Dario Franceschini praised the work of archaeologists and investigators for protecting the ancient materials that were at risk of being lost forever.
"A special thanks to all the professionals for the protection of cultural heritage. In Pompeii they are obtaining great results using traditional techniques and experimenting with new ones," he said.
Think your friends would be interested? Share this story!