May's wooing won't make Macron go soft on Brexit, warns ex-ambassador to France
Published time: 2 Aug, 2018 11:50
Edited time: 3 Aug, 2018 08:04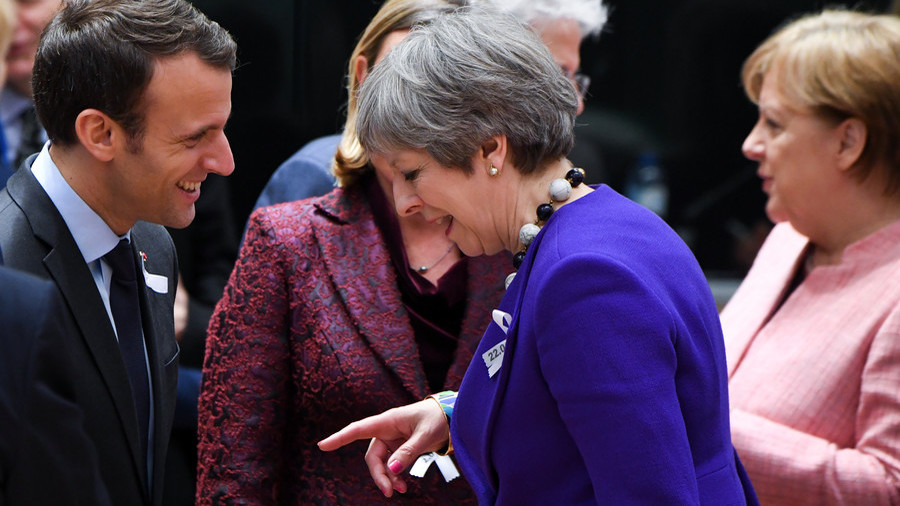 Theresa May's Brexit charm offensive has been savaged by Britain's former ambassador to France, who says the prime minister is wasting her time trying to woo European leaders.
The denouncement comes as May heads to Toulon where she will hold one-on-one talks with French President Emmanuel Macron. Lord Rickets, the UK's former ambassador in Paris, warned that there is little chance that May can 'soften' Macron's Brexit position.
"I think first of all, I would have said 'let's not go out and brief to everyone that Theresa May is going to France to try to get Macron to soften the French position,'" Rickets stated on BBC Radio 4's Today Program.
"I don't see why there's any chance of that. First of all he doesn't believe in softening it, he's a passionate pro-European. Secondly, he's the last person to want to break ranks with what has been a quite impressively disciplined EU side."
Rickets also took aim at the new UK Foreign Secretary Jeremy Hunt, who has been attempting to lay the groundwork for May's visit, though the headlines from his European trip have amounted to little more than his warnings over the risks of a hard-Brexit.
"We can't expect to do the negotiating in Paris and Berlin, and I still don't understand why the new foreign secretary is going around brandishing this threat of no deal, as if it's going to make the European countries more likely to want to soften their position with us," said Ricketts.
"At the end of the day everything is going to happen in Brussels," Ricketts said.
"Jeremy Hunt, going for these no-deal stories, is playing a dangerous game, because it is increasing the tension where people effectively go from Brexit to break it. It's a bluff and I don't think it's going to work, so let's concentrate on the facts."
Think your friends would be interested? Share this story!